Posted on 30 Dec 09:20 pm
An athlete must, at times, be completely self-centered in order to maximize their performance. This is especially true in a sport like long track speed skating, that is completely individual, just you vs the clock.
At moments, over the last few days, I did remove myself from my haze of self-centered-ness, and watched some of the amazing efforts & struggles of Olympic trials. My Brother and my wife took many videos, and these pictures are from them.
You can find the results of the races here, But this blog is not a results page, this is my impressionistic take on these few days.
Here is the cool poster advertising Olympic Trials. This picture does crop out the dates to the left and the complete list of sponsors below.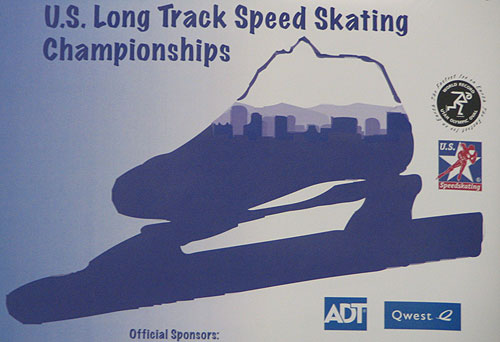 Like many US speedskating advertising efforts, it's a mix of brilliant and stupid. First of all, the graphic is stunning, but the words "Olympic Trials" were completely missing from the poster!!! (p.s. note, see steph's comment for the possible reason why this is missing, it makes sense) Also missing were some of the "marquee names" racing in this event. Where is mention of Fitzrandolph? Parra? Witty? Rodriguez? Hedrick? This is what will draw the public to come watch the races. Why not put 1,000 people in the stands, instead of a hundred or two? Aren't US speedskating's sponsors paying for "media/public awareness"??
There are maybe a dozen of these hung around the oval. They appeared roughly 3 days before Olympic trials. Why weren't these hung in every supermarket events board & sporting goods shop in town? Most local classic rock cover bands know better how to promote their shows than this!
Even so, There were actually a some people at the oval Tuesday morning for the first day of races. I could actually hear the cheering as I was racing.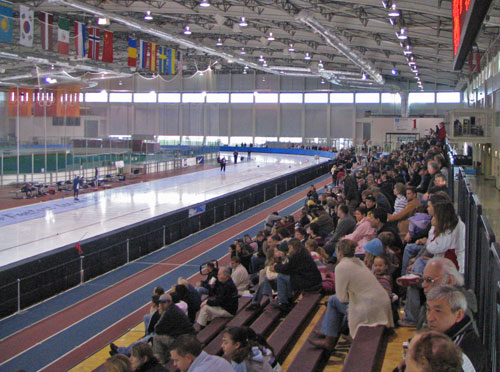 Marco Bucci's first 500m was his fastest of the season so far, here he is paired with Michael Stein about 30 meters into it. Marco has a habit, like myself and many ex-hockey players, of sometimes swinging his arms like he still is holding that hockey stick in his hands, he controls it nicely here. Good knee drive too. The second photo is marco in exactly the same spot on the track, 400 meters later.
Like in 2002, Eva Rodansky is one placing away from making the Olympic team, here she is driving to the finish of a 500m a bit ahead of multiple short track Olympian Erin Porter. This picture shows great technique from two great skaters, in very closely related moments.
KC Boutiette and Chad Hedrick have competed with & against each other for years on wheels, now they are 2 of the best ice guys in the world, and Chad could come home from Torino with several medals. Here they are in a 500m, Chad on the inner, KC on the outer. Once up to top speed on skates, you have to drive your body forward, while also pushing to the side, it's a really hard trick to master. In this second pic angle, you clearly see two masters doing it exceptionally well.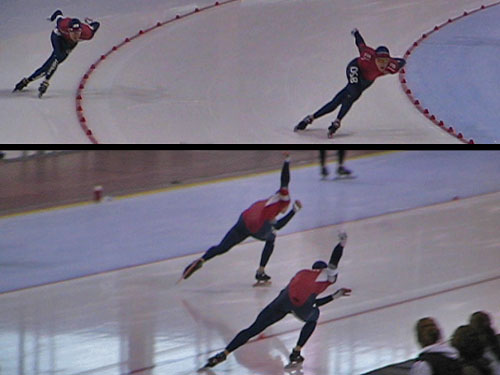 500m Gold medalist Casey Fitzrandolph and 500m Bronze medalist Kip Carpenter. No matter if you do a traditional standing start or a down start with one hand on the ice, the goal is the same, to drive off the line powerfully, and to position the shoulders and hips in their proper position for the first 100m. Note that these two skating studs come to identical positions within the very first step
Carla Langenthal skated, in the words of Bob Fenn "the best he has seen her skate in 2 years!" I pretty much agree, Her 3k was great, and she missed a top 10 placing by a whisker. That's her coach & Zen 10 Interview Victim Dave Tamburino standing in the background.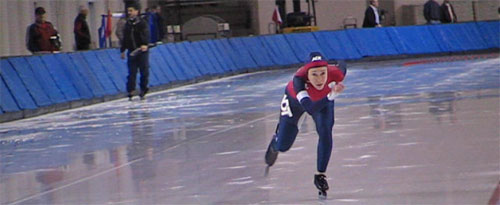 My brother-by-another-mother Kirk has a great pain face, here he is, in the last step of a teriffic 5000m effort, and a new personal best for him by 6 seconds. He can die a happy man now, or at least go golfing for the next decade without guilt.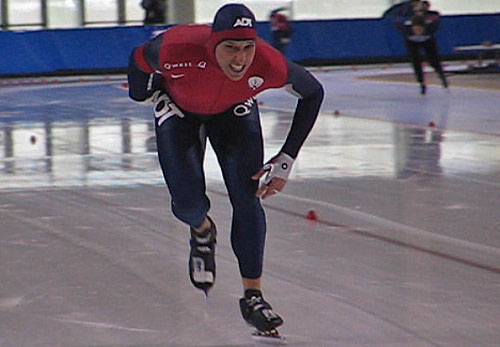 Here is Chad and Derek in the 1000m, Derek losing balance in the corner a bit, yet even with this hand down moment, Derek skated a 25.87 lap, incredible. After the 1000's were over, the margin between Chad Hedrick and 1st place finisher Nick Pearson in the was by the smallest measurable amount, .01 seconds.
Coach Boris appeared in the national media! His picture briefly was on the home page of ESPN.com, and several mentions were made in the media of his age and the other older skater in the race, 49 year old Bruce Conner. Boris was flattered, but what he REALLY cared about was that this race was an all time PB by about a half second! 38.24! An excellent time not just for an older man, but for ANY man.
Filed under: Olympic Trials