Posted on 30 Jan 09:09 pm
(I wrote this in Europe, but have not had the brain power/time to organize the pictures until now)
Italy reminded me of visiting a close relative who is worldly, educated, stylish, endearingly eccentric, disorganized, rambunctious, and who lives in a house that is exceptionally beautiful, but who ran out of money halfway through construction, so it's wonderful in a work-in-progress kind of way.
Many of the American professional bicycle racers who base themselves in Europe choose Italy, and I can see why immediately. There is something in the Italian spirit and zest for life that appeals to Americans.
Now I need to be somewhat careful as I write this, as my wonderful father-in-law is Italian, and my wife speaks Italian fluently and has lots of family in Milan. Also, I spent the majority of my Italian time in South Tyrolia. They speak German & Italian there, and have a complicated relationship to Italy. So who knows what mismash of culture I saw through my own filter of odd Americana.
So with that disqualifier, here are some of my observations & moments from my few days in Italy.

10. Fertile ITALY
Switzerland is so magisterial, tough, and spartan in it's rugged physical nature. Yet only one hour south of Lugano by train, suddenly a mild climate & very agriculturally rich land leaps into view. It just blew my mind to think that this is the landscape the Romans marched all over the rest of the world from, and that now I am here.
9. Italian Graffiti
I saw lots of urban graffiti in Europe, and a lot around Milan. This is the best picture I got.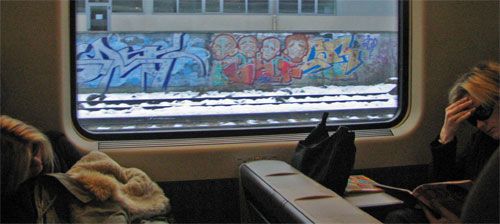 8. Bicycle Commuters.

I waited for the bus one chilly evening on a hill in Bolzano. For every car that roared past, I saw at least one bicycle or scooter commuter zipping by. The cyclists were all ages, all economic classes, and actually had to work to get up this hill. They did so with speed and a pedaling suppleness that suggests they do this every single day. The cars on the road did drive aggressively and very fast, but the drivers used their considerable skill to give cyclists wide berths. It was quite cold out, everyone was still riding.
7. Walking arm & arm with mom.
I saw this many times, a man or woman about my age, out for a walk with mom. Usually with a proffered elbow gratefully accepted. It seemed both stately and intimate at the same time. It made me miss my mom, and having the excuse to go for a walk somewhere with her. But in America, how many of us are still in the same town as our folks? And how many of us are completely dependent on our cars, physically and psychologically, to do ANYTHING? When was the last time we "went for a walk" with mom for the sake of the walk?
6. Adjustable Showerheads

The same as I have seen all over, but this one in my Hotel had the hot & cold indicators installed wrong. The cold handle was hot, and the hot handle was cold. It took me a while to figure it out. Disorganization or a test of tourist intelligence? I almost failed the test.
5. Newsstands
I think it takes spending a good solid hour browsing an Italian newspaper & magazine oriented store to hold a good mirror up to your American face & take a close look at yourself. What do you find appealing? revolting? familiar? boring? kinky? exotic?
There is an amazing spectrum of stuff at the average newstand, newspapers rivaling the raunchiest british tabloids, Harley Davidson custom chopper mags, endless Cosmo & girly-girl mag rip-offs, lots of hardcore porn, computer 'zines, yachting mags, Futbol Futbol & Futbol. All mixed together and a good mirror to look deeply into, since in every topic, the temperature & intensity seems to be several notches higher that us stuffy Americani.
4. Italian keys

From space age Swiss keys to the middle ages of the hotel I was staying at. This quite large & primitive key is connected to a huge, extremely heavy brass weight that practically pulls your pants off if you are not wearing a belt and put it in your pocket. I am not sure what the black rubber bumper around the brass weight is for. Anyone have ideas?
3. The unofficial Italian State Bird
I don't know what the official state "bird" of Italy is. But here is my nomination, the construction crane. Most Italy seems to be under construction/reconstruction/desperately needed remodeling. Huge cranes cast their shadows EVERYWHERE. Every neighborhood seems to have one or two. There are five visible in this shot, and over one very modest town, I quickly counted 14. I asked an Italian about it, he said something about they are absolutely necessary because they must build strong homes… yeah, whatever…

I have lived in some of the fastest growing urban areas in America, towns in Colorado and Utah that are adding population at 10-14% a year, and we only use these in major urban construction for things like skyscrapers, never for one story houses. Italy is actually shrinking in population, not growing, so I simply don't understand why these eyesores are towering over everything.
Besides, I only ever saw one of them actually moving something.
2. The McOrientale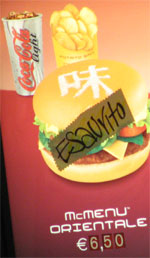 I am mortified over what the US most visibly exports to the rest of the world; the pop music, fast food, & sitcom TV is so far from the best of what America is. However I was intrigued to try a McOrientale, but it was discontinued. I wanted to see a bun with a pictogram on the top. What does it mean? Any speakers of Chinese read this blog and know this word? (wayne in taiwan, you probably know) Or maybe that is McDonaldese, and not any real Asian language.

1. The birthplace of all Tortellini.
Forget the mythical "Fountain of Youth" I want to live next to this "Fountain of Tortellini!" hidden in a snowy nook of the Dolomites. I like the vineyards in front of this factory, as well as the creative steam rising from who knows what? Wine & tortellini? Sounds good!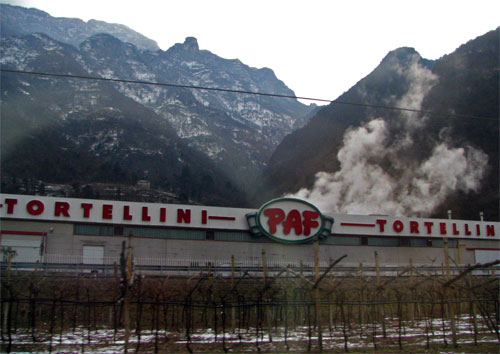 Filed under: on the road