Posted on 04 Feb 09:58 pm
The juniors wrapped up their metric competition today, and then the pack racing started in earnest. I took a few pictures of the racing, and a few folks sent me pics. So this is a long picture post.
Paul Dyrud Was the Class of the field in the 5k, in the neo-senior category (19-20). This guy has junior world championship medals in his closet, and it shows. He must have a huge heart (both physical and mental).
Here is Mike Blumel and Liam Ortega. When people talk about "falling" into a stroke, they mean using your bodyweight in addition to your muscles to create pressure into the ice. You fall into your push, draw a mental line directly from each skaters chin down into the ice, and you see how they are "falling" or "leaning" into the push.
Liam Ortega making his own journey deep into the pain cave. This is the last 100m of his 5,000m. Ouch. Liam is another one of my favorite technical skaters to watch, I wish I could keep it this together in the last 100m of my 1000 like Liam does in the last 100m of his 5,000m. This is good technique.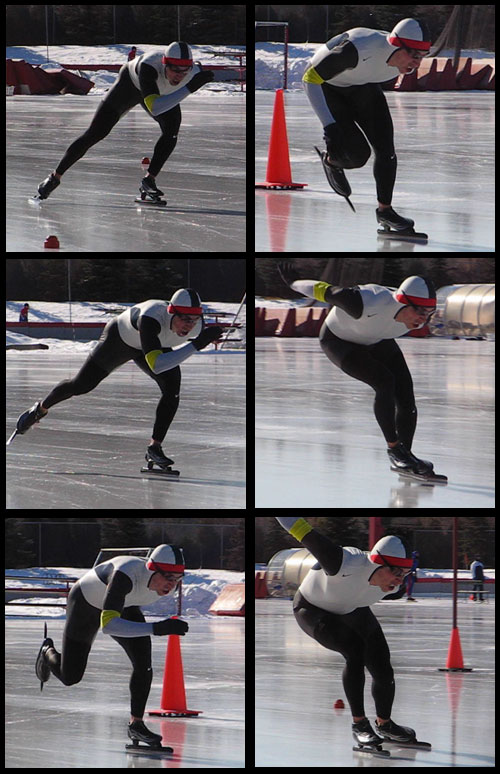 This is Nancy Sweider-Peltz Jr, warming down after winning the the Junior women's national championship. For a long time I thought she was in her mid-20's. I was shocked to discover she was only 18, she skates and thinks with a maturity beyond her years, and will represent the USA well at Junior World Champs in Efurt, Germany.
The reason that I wanted to show this pic of Nancy is to bring up a point. She not only skates fast, she practices good warmdown technique. Racing actually does a lot of harm to your body; Nancy is riding to get some of the lactic acid out of her muscles and to speed the healing process. It's really easy to forget to properly warm down, but it's essential after racing or hard workouts. Also note the water in the lower left hand corner. Warm-down & hydrate! She has the bases covered. Yesterday afternoon when some of the other juniors were schlepping about the Mall of America yesterday tiring out already tired legs, Nancy was asleep in her hotel room. In metric racing, these little things all add up. For her, this just added up to a very satisfying win.
After the metric races finished, there was a brief break, and then the pack racing started in earnest.
Here is Jay Jackson attacking off the front of the intense master 40-49 pack. Go Jay! Marty Haire is in the lead, and chased Jay down.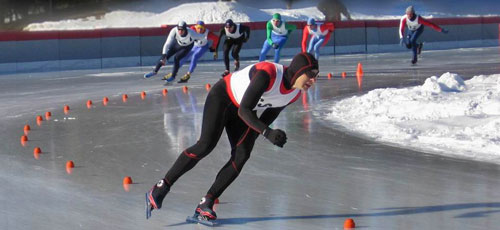 Kaari Cox, the woman I mentioned in the post yesterday, lead her 1000m race start to finish, and skated super strong even though she was really hurting. The ice in Roseville is in FANTASTIC shape, too bad it's windy, or we would be smoking fast. I must admit to turning the highlights up a little bit on this picture in photoshop, to bring out the details in the reflection.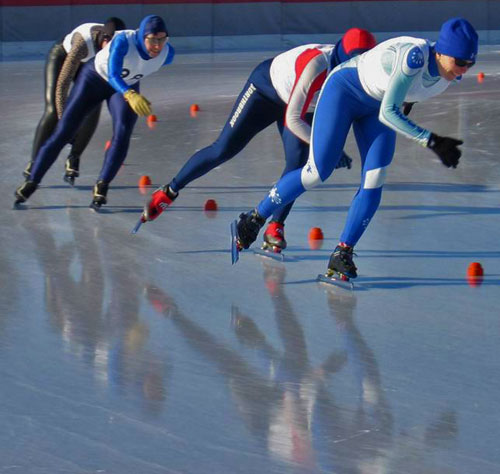 I believe this is the 13-14 year old boys, I am not sure if the kid rocketing off the front was doing it out of courage or just youthful exuberance, the pack sped up and blew by him within a lap, but he really went for it, saying in the best way "catch me if you can!"
The senior men skating through sunlit ice. From left to right the skaters are Marcus Merrill, Mike Hall and Nick DeHaan. I like the motion of this pic, and the ice. You can also see Mike and Nick correctly placing their blades onto the ice heel first. click on this image for a larger, desktop friendly version.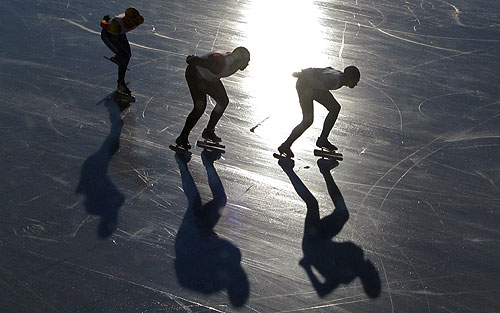 Saratoga Springs skater Andrew Hodor leads the always-intense 13-14 year old race as it winds up into a full sprint, he held on to win.

As for your humble narrator, I had a good day, and went as hard as I could in the 1000m, and skated a very solid race. It felt like a low 1:16. But the gusty winds slowed everything, and my time turned out to be a 1:20.6, slower than the 1:18.29 record. Damm, oh well. I won my race though, and barring catastrophe, should win the masters 30-39 championships.
Filed under: on the road