Posted on 19 Jun 07:42 am
I have been training so hard this past week, my muscles, brain (& back) are complete toast.
I don't mean tasty toast, I mean that kind of toast that instead of melting in your mouth in perfect harmonies of butter & jam, crumbles into cardboardy tasteless scattered burnt bits of sharp crust.
Posting blogworthy ramblings does require at least two brain cells acting in concert, I can't find a quorum.
Hmmm, toast is just a pretty metaphor… Here is an actuality, my brain feels as worn out as my current pair of dryland shoes. Damm, These were new just a few months ago!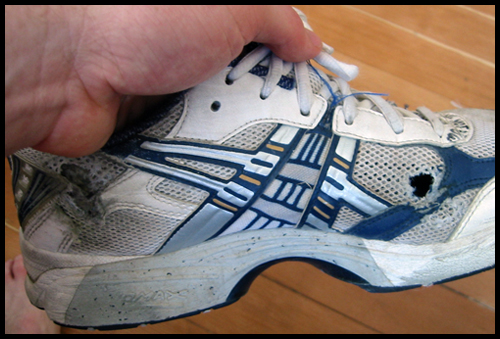 I am not overtrained, in systematically-applied doses this is what June-July-August-September should be like for an October-February competitive season.
It's scientifically possible to quantify the effects of training physiologically, but emotionally?? Intellectually?? Only metaphor will do. So I am shredded shoes on burnt toast.
I will return you to your regularly scheduled, half-thoughtful blogger shortly. Right now I am going to crawl to work, and try not to fall asleep face first on the keyboard.
Filed under: from home