Posted on 23 Jun 07:59 am
Imagine a large reddish whirlwind, with crackling energy and boundless eccentric enthusiasm. This individual has been involved in many well-known skating websites, and is one of the most recognized faces on the INLINE circuit.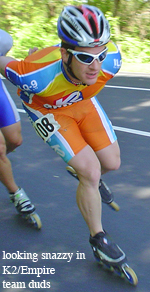 I knew a lot about Peter from his own personal website before I met the real person at an inline race in 2001. I clearly remember walking up to him at a race in New York City, and awkwardly saying "uhh, hey, you don't know me, but I love your online stuff". We started chatting, and the words-per-minute count quickly reached epic levels!
I quickly discovered that Peter has been on the front lines of speedskating as a competitor, webmaster, coach in the Toronto Inline Skate club, race promoter, encourager, chief beatnik goofball, the list simply goes on & on. Even after I moved out west, we have stayed in touch.
I have been looking for a good excuse to interview Peter for a while, he just set the Canadian inline 10k inline track record. That seemed to be excuse enough!
Q: First of all, CONGRADULATIONS on your record! Has your training, focus, or diet been different this year?
Thanks a ton. I really wanted to beat the 10k national record. I feel I skated strong.

Firstly, I've really tried to change my diet- I always thought that I could 'shut off' my chocolate eating habits. I haven't shut it off, but I've slowed it down. The good thing about training more is that I need more food to meet my caloric needs. I've been eating a ton of vegetables, fruits, and nuts. My weight has gone down from 185lbs to 171lbs, and I still have another 10-15 lbs to lose.

My training approach has completely changed in the last 9 months. At the 2005 world championships in China, I felt as if I was staring down the barrel of a gun in terms of I need to train well now and not later. Thankfully, Mike Murray- the legend- a great skater and coach, decided to take me under his wings and coach me.

You know the pain of training; it's something I never experienced before. This year, I've been racing tired because of weights, cycling, and other training activities. At this point, I'm stronger in terms of fitness and technique than any point in my skating career.

I guess the main thing is that the goal is to develop more power, so I am skating much less now - 2 days a week, but I'm in the gym way more and using the bike for sprinting and recovery.
Q: I think you are one of the most qualified in North America to answer this question: Assess the health of the inline-racing scene right now, what are the next steps for the sport?
In general, I think some parts are weak and some parts are strong. I don't have any exact numbers here, but I've spoken with a few dealers, vendors, and distributors, and there's not a lot of money to be made, and when there's no money being made, I think that can hurt the sport in a few different ways.

Most of the events that exist are super. They are rich with beautiful scenery, strong skaters with good looking suits. The atmosphere is also positive- skaters know one another and travel to races and get together after the races for drinks and food and parties.

We're getting to know more and more about how to train, what equipment to use and how to use it, what efficient skating looks like; information is being shared via the net and by coaches and instructors like Barry Publow and Eddy Matzger.

There's something that worries me a little, it just seems like everyone is doing 'their own thing', and there's no North American version of the Swiss Inline Cup. I mean can you imagine a series of 10 or more races the size of Duluth? I think the SIC concept is worth looking at and adapting to the North American culture and market. I think once this is done, we can say 'wow, we've got a strong sport'.

I think that an indication of the health of inline-racing is how many facilities we have- there are very few. Imagine if there were only 10 basketball courts in North America and basketball players were forced to play on the street in traffic. To have a game, they needed to close roads down- It's absurd, but that's a big reality that inline skating faces; we need a lot of space built specifically for us using expensive materials.

Someone needs to figure out how this can be done. How can we get our own exclusive or multi-purpose facilities? How can we have a successful mass-supported continental series? The person(s) who find the answer, I think, will end up being very powerful and influential.
Q: Your inline racing web page was one of the best sites EVER (this is what it looked like). For about 4 years, I visited it pretty much every other day. And you CONSTANTLY updated it. I miss it. You closed it down to focus on your own life. I truly understand that. Will it ever return?
Hahaha, it's funny because I miss it too. I've had a few people tell me that they miss my site and also that they understand my choice. I was surprised that it affected as many people as it did- I received a ton of emails of support and well wishes when I made the announcement that I was going to slow down.

I think it will. I love inline skating. I'm a huge fan of the sport. Making my website as a portal where you can find everything was a way for me to share my love of the sport with everyone.

I think my site served an important purpose. I'm not saying that it was intentional, but I think that it serves as an important archive that you can use to find pictures, results, etc.

I think that down the line, once I back off from training, I would love to return to the website. One of the first things when I do return is to completely re-do the design so that it has a kick-ass look. I'll probably keep the content philosophy the same- dig everything up ASAP and link up to it. For now, it's acting as a blog; I think there's still some stuff that I could share.
Q: You are another example of what I call the "Allskater" concept. You skate EVERYTHING. Why?
Oh man, there's a few reasons for that one. I've never really specialized or focused my training. I also enjoy every type of skating, from indoors to outdoors, long and short, up, flat and down.

I think that's a dangerous line to walk though when I want to be a top-level skater. It's ok to be an 'allskater' here in Canada and the USA, but when you want to face the world's best in a field that is very deep, you need to be more specialized. I think that's where my training is headed right now. With a focus on the world championships, I won't be skating certain events at certain times in the season.
Q: You have made epic road trips to every inline race on the continent, What one always seems to create exceptional memories?
Every road trip rocks. I think the ones that are great are the ones without speeding tickets. Actually, I have to say the craziest and stupidest one was when Eric 'Hip Hop'Gee and I drove from Toronto to Orlando and back in one weekend. We left Toronto on Friday at midnight and we were back on Monday at 6:00am. Numerically, a trip of 54 hours broken down into 40 hours of driving 5400km, 1 _ hours of skating, and 5 hours of sleep. The sheer magnitude of what we did makes it #1 on my list. Maybe we'll do it again? Eric's been saying no to the idea, but he's convincible.
Q: I remember once being in a breakaway with you during the Canadian Inline Marathon Championships a number of years ago. It was incredible, your sustained speed made me feel like I was trying to draft a car. What do you feel your strengths & weaknesses are as an athlete?
Weaknesses: Technique for sure. My top-end sprint and starts. Race strategy during the final sprint. My complacency; accepting that where I am at is ok for now even though I know I could be much better. Strengths: My ability to sustain successive breaks and accelerations, my strategy during the races. My desire to continue skating for my whole life. My positive approach to training.
Q: You are a regular contributor to many inline speedskating discussion forums. What ones do you read and contribute to regularly:
I love forums because the are so rich with information. I haven't been contributing much in the last year or so. I used to contribute a lot, but with the training and work, I don't have a lot of time to be engaged in different topics.

I always read up on the big ones for sure, like Hyper, Bont, Racereports.net, the Inline Planet, Skatelog, and Skater's Refuge.

There's a whole whack of club ones to that I'll surf, like the Toronto Inline Skating Club, Ottawa Inline Skating Club, Roller Montreal, and Emerald Coast.
Q: How many times have you represented Canada at inline worlds? And what are some of your favorite memories from worlds?
I've represented Canada at the 2000 (Colombia), 2002 (Belgium), 2003 (Venezuela), 2004 (Italy), and 2005 (China) world championships. Hopefully we can add 2006 (Korea). I also competed at the Pan American Championships in 1997 (Ecuador), 2002 (Colombia), and 2005 (Argentina)

I can spend paragraphs writing the memories, but I won't. Aaron Arndt winning a bronze medal at the 1997 Pan Am Champs was a great moment for Canadian racing. He forgot the medal in the hotel room, but we never forgot that he earned it.

I've always loved being in breakaway or at least in the lead in the marathons, and I've done so at each worlds. I got clobbered each time, but nobody needs to know that, right?

Of course, the parties are out of control. You're there with your club and country mates and you get the chance to be let lose the night after the championships- it's a recipe for break-ups, jokes, and things that you can't remember.
Q: What is the single most impressive thing you have ever seen a human being do on skates:
Wow, tough one to answer. I'm always impressed by every skater, but I have to say that just watching the top-level skaters during track races always gives me a reason why I compete in this sport- it's impressingly beautiful.

I'll break it down like this:
Ultra Marathon: Randy Bowman attacking like a crazy mother ****** at the 2003 A2A. I hated him after that race.
Eddy Matzger and his attacks going up the hill in Prospect Park during the 100k- he somehow always caught the pack by surprise even though everyone knew he was going to attack.
World Championships: Chris Creveling during the 2004 worlds road relay; I think he's got a beautiful skating style, and he moved up at the end of the race into the top position while looking so relaxed and smooth.
10k points race at 2002 Worlds- Arjan Smit and Diego Rosero- these guys went at it from the gun, and the world record was set.
Q: You would probably be one of the athletes representing Canada if Inline speedskating were an Olympic sport. Top inliner skaters like you are just as dedicated as ice Olympians. How much does it hurt that inline has been repeatedly turned down?
Honestly, I love inline so much, and I think that with or without the Olympics, I am a happy skater. I've never had any expectations that inline skating would become an Olympic sport. Sure, it would be nice, it would certainly help inline skating a heck of a lot, but this is the sport that I love and that I've chosen, and I am willing to accept the fact that there are no Olympics for me.

Don't forget, we have the world championships, the Pan American Games, and the World Inline Cup just to name a few. We've got our beautiful races and our glory events.
Q: Who are the people who have always been there for you? Who have been in your corner 100% and are part of every step you take on asphalt, ice, or hardwood.
Mom & family, Wayne Burrett, Eric Gee, Mike Murray, girlfriends, and friends (Gero, Dave, Jay, Paul). They've all had a part to play in helping me continue being the me I want and strive to be. They've respected my choices and encouraged me along my paths. I thank them and I love them all for that.

Zen Haiku speed round:
Q: Favorite post-inline marathon road trip food?
Subway and chocolate.
Q: How many pairs of skates are in your closet?
Four complete: 2 inline, 1 long track, 1 short track, and 4 boots.
Q: Translate your exclamation "whoot! whoot!" into American English for me.
I 'stole' it from a friend Shannon Hegarty. I think it means like yeah! yeah! or woo hoo!
Q: Best thing about being a proud Canadian
The different cultures that share this nation.
Q: Most difficult thing about being a Canadian
That Canadian inline skating is beginning to be well developed in some areas, but gains are slow. It's frustrating because I've see the world's best and I know Canadians can one day get there, there's just a lot of work to be done.
Q: You are quite the skinsuit collector, what countries/teams are in your collection:
Canada (2 versions), CDA-Pro (an old team), Chile, Colombia, Ecuador, Germany, Italy, Kellogg's Nutri-Grain, Korea (from 2002), K2/ Empire (2 versions), Mogema (2 versions), New Zealand, Pyro-Apparel, Toronto Inline Skating Club (2 versions)
Q: Music is important to you, what songs do you associate with good hard days of skating.
I listen to all sort of music; punk, ska, reggae, bluegrass, electronic, jungle, rock, acoustic, blues, alternative-rock; Here's some songs and artists I'll be happy listening to: Jean LeLoup (Je Joue de la Guitare), !!! (Me And Guliani Down By The Schoolyard), Cake (Jolene- live version), Arcade Fire (Power Out), Bob Marley (One Cup of Coffey), Coldplay (The Scientist), anything by DJ Shadow, Doves (Caught by the River), Gandharvas (Down Time), Goldfinger (Superman), I Mother Earth (When Did you get back from Mars), JB Lenoir (I Want to go), Les Cowboys Fringants (En Berne), Linkin Park (Faint), Lowest of the Low (Subversives), any thing by Modest Mouse, any thing by Muse, Oasis' live acoustic songs, Our Lady Peace (Innocent), Peter Tosh (Jumbie Jamboree), anything by Placebo, any songs by Rage Against the Machine, lots of songs by Skip James, Sublime- anything by them, The Dears are super good, a give me a few Weezer songs.
Q: Make a choice – rock & roll hit record or inline world championship??
Rock & roll hit: I'll get enough cash from it so I don't have to work and I can finance my training for the world championships. I can also sponsor teams and events.
Q: What was more nerve wracking? A race at inline worlds, or auditioning for "Canadian Idol"?
Inline worlds for sure. Both are fun, but there's way more on the line and more pressure at worlds than at Canadian Idol. At worlds, everyone is watching you. There's 2 judges and 4 contestants in the room at the Canadian Idol audition, so you can lie that you freaken rocked the audition, but you can't lie about your performance at worlds; you're accountable.
Q: Magically borrow one ability from another top skater for your own, what would you take, and from whom?
Harry Vogel's agility, Keith Turner's leg speed, Derek Downing's 1000-meter, Chad Hedrick's double push, Arjan Smit and Tristan Loy's staying power, Chile's Felipe Mora's left foot set-down in the corner, Diego Rosero's basic position- I think this creates a beast of a skater!
Q: Do you dream in French? English? Or both at once?


Nobody talks usually. I do a lot of flying about 20 feet up. The cool thing is that I know that I am dreaming, and I can control them sometimes, so I know what it feels like to fly. It's awesome! I fly doing the breast stroke!
Filed under: Zen 10 Questions: