Posted on 16 Aug 03:02 pm
Life is good, I have joined Scott Koons' training group (the appropriately named F.A.S.T team). This season it's a bunch of very gifted younger skaters. I am having a good time, skating well, and am truly exhausted in that good "train yourself to shreds" kind of way.
So in absence of any scrap of a brain to write with, I will just post a few images…
Lacing up on a quiet morning.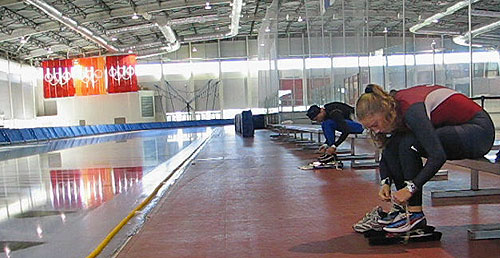 Fellow sprinter Tony Davis, looking smooooooth on perfect ice..…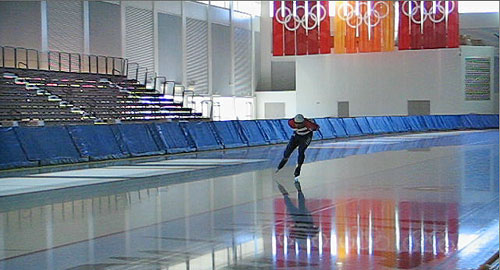 I mentioned Canadian coach Arno Hoogveld in a recent post, I contacted him and let him know about the post (it's always polite to do that).
We had a great email chat, and I discovered he is not only a coach, but a serious photographer as well. Because he has coaching credentials, he can take pictures from places photographers are not allowed, and since he has the knowledge of skating he does, his eye for capturing this sport is exceptional.
Here is an image he shot of Chad Hedrick, K.C. Boutiette, and Derek Parra during a team pursuit race in Torino -this was not the Olympics, but during the world cup in Torino about a month before.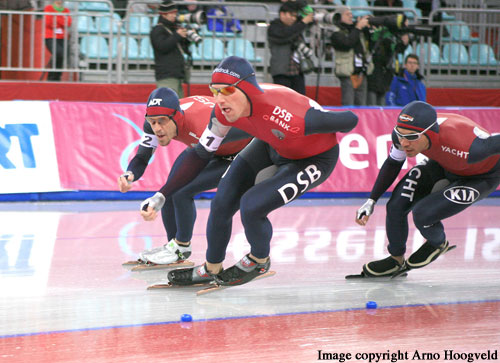 It's really clear in this photo to see where elite skaters put their weight in the corners, look at the relation of hips to heels.
These 3 men represent so much of the inline to ice movement (Jen & Joey also count!). They have accomplished an incredible amount in their careers, and it's interesting to contemplate the number of lives whose arc they have impacted. What a rare shot to see all three cranking out scary speed shoulder-to-shoulder.
p.s. Please don't steal images online, I asked Arno's permission to post this. If you like it, ask, he might say yes. If you steal this for commercial use, I will ask a local voodoo expert to make sure your computer suffers from relentless spamstorms and arthritis of the hard drive!
Filed under: from home