Posted on 14 Aug 09:51 pm
This is Paul Nahrwold, skating on the HUGE green treadmill that lives at the far end of the Utah Olympic Oval. They use this monstrosity for all sorts of physiological testing and technique work. It's nice because no matter how fast you skate, your coach is always still right there. It can go really fast. They have the blue catch strap so that if you fall, it does not shoot you off to splat against the far wall 450+ feet away.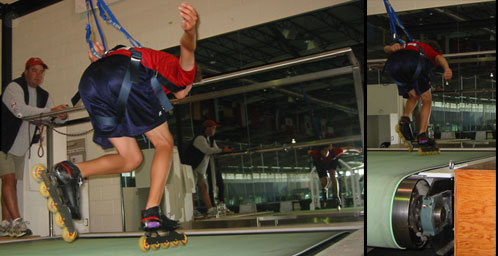 I can think of many east coast inline skaters who would love to have this giant treadmill in their basement during those rainy days/weeks/months that define so much of New England.
Sigh, that beloved green landscape of perpetual murk…. My wife is visiting friends & family back east this week, and I am using my lonely energy for training, work, and rearranging all the furniture in our house (a couch in the kitchen? why not!!…)
This weekend they opened the Utah Olympic Oval to the impatient members of the Utah Skate tribe. Far from being "Crouching Tiger, Hidden Dragon" smooth & assured, the first sessions have felt like "Drunken Panda, Spastic Rhino" for myself and others. However the normal early season skate uglies are definitely somewhat tempered by goofy happy smiles on most everyone's face.
Ugh…. am suddenly…. tired…. training has…. sucked out…. my brain… need to…. eat… sleep… do it again… tomorrow… zzzzzzzz…
Filed under: sweat