Posted on 12 Oct 07:14 pm
Hazy, but clear blue skies over the Salt Lake airport, another beautiful day in the west with a salubrious hint of fall in the air. If you look closely in this photo you can see the buildings of downtown Salt Lake in the distance.
Luckily the plane I was flying to Milwaukee in was bigger than this puddle jumper.
In Denver on my layover, the same gentle western mountain air and blue skies. The Denver airport would win the "P.T Barnum on Acid" award if there was one. It's wonderful inside, but from the outside it looks like a circus tent that has added several unnecessary time-space dimensions to its existence.
Arriving in Milwaukee & straight to the rink, 35 degrees, biting cold, clouds cold as stone, snowflakes horizontally skittering along in gusty wind. WELCOME TO THE MIDWEST! There is something about low altitude damp cold that just claws its way through your jacket.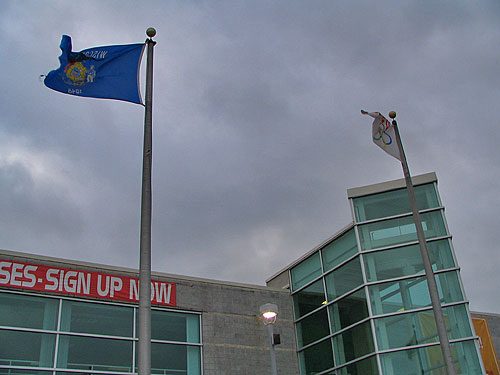 Inside the Pettit center was bustling with activity, and warm with the smiles of many good folks I know. Here are some of the young and the fast, in their US Junior National team blue & red. Mathew Shanahan and Connor Slivocka saw me wandering around with my digital camera. They said "hey! Your blog rocks! Can we be on it!".
Sure, here ya go guys. That is Matthew Hickson sitting on the pads, grinning at their goofing.
Filed under: on the road