Posted on 22 Oct 09:38 pm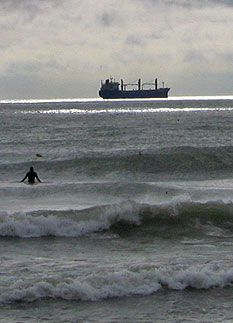 Thanks to everyone who has commented & written…. Thank you so, so much… I still feel pretty crummy, but it's in these moments when the good people in your life shine through like the ship of reality to a wave-tossed man swimming alone in his own misery ocean.
actually, this image is a fella having a great time surfing in lake Michigan a few days ago, but you get my point.
But my story is only one of the 38 athletes competing here over the past few days in 126 different individual races. When I was done with my own time on the frozen 400m hamster wheel, I grabbed my camera, headed for the stands, and enjoyed being a fan of this wonderful sport.
Here are some images.
John Loquai made his father & whole family so proud as he earned his 2nd world cup spot in the 5k here. He did it suffering through a below average day (I have not asked him, but it looked that way). His spot came at the expense of Liam Ortega, who skated a personal best in the 5k. Over 5000m, the difference between these two for that spot was .34 of a second!!!
Here is John at 400 & 100m to go in his 5k. Ask not for whom the bell tolls, it tolls for thee.

Catherine Raney. The working title for the photoshop document that became what you see here was power is beauty, I think it fits this Torino Olympian quite well.

Liam Ortega and Nate Defranco 100m, and then 500m into a 1500.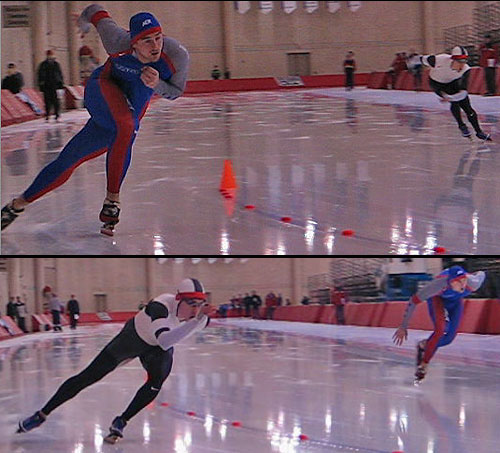 In a huge surprise, Mike Blumel won the 1500m, its even more impressive since he has not had a lot of ice time this fall. Here he is blasting off the line in that race with Brent Aussprung. One of the tricks of starting on blades as opposed to sprinting in running shoes is to drive the knee straight forward yet keeping the ankle turned out ready to land on the ice. Many skaters don't do it that well, but the best sprinters are fantastic at it. Mike does it like a rockstar.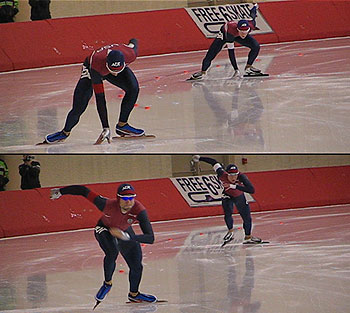 Tom Cushman urging Torino Olympian Charles Leveille onward in the 1500m. I think a lot of the coaches completely blew out their voices urging their skaters onward.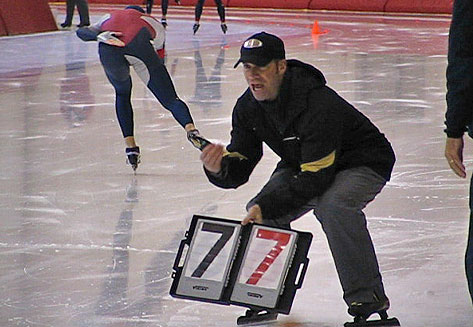 Roughly 29 seconds after the previous picture, 300 meters from the finish of the 1500m, the sound track for this image is Ryan Shimabukuro screaming for Chris Needham "USE THE DRAFT! USE THE DRAFT" Chris did, took a long walk through lactic-hell, and missed 3rd place (and the final world cup 1500m spot) by .03 to Kip Carpenter.
One of my training buddies, Michael Stein-Stewart, 350m into his 1500m… when folks talk about "blade direction in the turns" & pushing to the side, not back, this is how it should be done, Maple gold blades also catch the light nicely.. whoosh…
Anna Ringsred is one of a handful of Americans training up in Calgary this year. This is the last few meters of a fast 3000m raced step for step with Maria Lamb. Her technique looks quite a bit better here after 7.5 laps than I do staggering to the finish of 2.5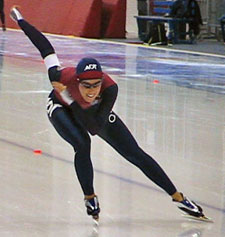 Matt Plummer has several Junior National Short track championships in his background, he is also a talented cross-country runner as well, so this season he is trying Long Track. As he lined up for his 5k, he drew a fairly intimidating pair in Torino 5k Gold Medalist Chad Hedrick.
Ron Macky & Mitchell Whitmore sprint shoulder-to-shoulder for the finish of a 5,000m race. Ouch. Exciting racing to watch, but as Ron told me afterwards, sometimes it's not a lot of fun to do.
As I was leaving the rink, I heard an athlete who had a disaster of a weekend announce loudly that the Jagermeister shots will be in his hotel room tonight & everybody come on over! It was tempting, but I have dealt with my own disappointment in other ways.
Skating is not life or death, it's not as important as your family or other loved ones. Those things, and MANY others are far more important. But for pretty much everyone on the ice at this competition, it's our absorbing passion, and what we spend the majority of our lives doing. When its good, its really good, but when things don't turn out well, it can make for a long plane trip home.
Filed under: RACE DAY, on the road