Posted on 24 Oct 08:27 pm
Before my skate addiction caused me to get to know it, I always imagined Milwaukee as being just a northern suburb of Chicago. How wrong I was!!! Now that I have fallen in love with this place, here are 10 things about the rolling landscape of beer and cheese.
10. Lakeshore Drive Alterra Coffee Shop.
A psychologically healthy community often produces prime examples of the species "superior local coffee shop". This place is one of the best ones I have ever wasted hours in. Fast Wi-Fi, great coffee, and a pastry counter full of amazing mouth-watering delicacies.
The NODE 24 hour coffee shop also deserves mention. I would have loved that all-black, clove cigarette vibe when I was 19.
9. Leaf Piles
They do leaf piles in Wisconsin almost as well as upstate NY. I miss leaf piles; the mountain west doesn't build leaf piles in a satisfying way. This one looked like a horror movie monster about to consume any car that parked nearby, who knows, it could even be digesting one right now! For bonus points, find Carla hidden in the picture.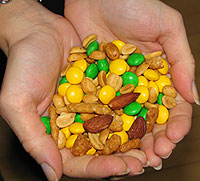 8. Green Bay Packers Gorp
They really love their football team here. I mean REALLY LOVE THEM. You can buy almost anything decked out in game-day ready green and gold. However I was completely speechless at seeing even GORP in Packers colors.
Of course maybe I was speechless because my mouth was crammed full of it. Damm tasty.

7. Indian Place-Names
"Ouisconsin," became Wisconsin, it's believed to mean "grassy place" in Chippewa, or "gathering of waters" in Algonquian. The Word Milwaukee is probably Algonquian, and is believed to mean "a good spot or place."
The French who were here in the early 1740's, agreed with these assessments, and started the normal Caucasian genocide. Most of the Indians are gone, but their spirit is still in the land, reveled in place names like: Kenosha, Waukegan, Wauwatosa, Oconomowoc, Sheyboygan, Menomenee falls, Peauwaukee, Kaukauna, Lake Winnebago, Shawano, Potawatomi, Sokaogan (try saying all of these names really fast).
6. Moods of Lake Michigan.
Many people who have lived near large bodies of water somehow don't feel whole without being able to see & hear a lake or the ocean every day, I understand. Lake Michigan is constantly changing mood, it's never the same twice, and looking at it always makes me smile. Here is just a tiny taste of one of its moods.
5. Milwaukee has soul
Many places in the USA have no soul. Look at the event calendars from Milwaukee's small weekly magazines MKE and the Shepherd Express and you can see that this place definitely has soul. A city often reveals it's soul in its local small weeklies like this. Stuff is just going on!!!
4. Breakfast in Wisconsin
I had a long conversation with a Californian about this, and from our dual-coast perspective we both agreed that Wisconsin produces consistently the best breakfasts we have ever experienced in the USA. Probably something to do with the agrarian roots of this state, plus incredibly dairy products, mixed with Scandinavian work ethic requiring early morning artery-clogging wonderments to start the day.
3. The upper Midwest accent
In this TV age, most verbal inflections are flattened by mass media sameness, Therefore I think all surviving examples of local pronunciation are wonderful and should be cherished!
The Minnesota/Wisconsin accent seems to involve flattening the vowels and extending their "hang time". Here is an example: Weee'rreee driiiving toodaaay to keeennnooshaaaa…..
Also "haaave a niiice daaay!" or "youuu haaavvve a goood eeevening!" is often said with an instructional/mandatory tone!
2. Cool Fisherman & Salmon
Many times in the fall I have walked the shoreline and seen huge salmon cruising the shallows looking for a place to spawn. One day this past week I came across a bunch of cool guys on a pier hauling in fish after huge fish.
I struck up conversation, and they gave me 3 fish, each as long as my arm!!! (proof of claim on the right). I had an interesting afternoon butchering the 37 lbs of fish here.
A morally honest carnivore should, every now and then, personally slaughter something that they then proceed to eat. In case you were wondering, according to government studies the PCB's are not a problem anymore in Salmon -just don't eat it everyday, and NEVER eat big lake trout or carp.
An honorable mention goes to Carla, who handled her houseguest turning her kitchen into a gory horror movie with amazing calmness (there was fish blood on the ceiling by the time I was done). She also contributed to the writing of this post.
1. The Pettit Center!
Absolutely one of the best things about Milwaukee!! The history of this place, and the cool folks who skate there, are a gift that too many people take for granted. Sure it's cold inside, and kind of dark, but it somehow feels like "home", (start audio soundtrack here: the "cheers" theme song). Now if they would just publish results from last weekends racing (come on folks!) they would be perfect!!
Filed under: 10 things about: