Posted on 04 Dec 10:53 am
Deseret News reporter Heidi Bruce came out to the oval to watch the World University Games qualifer races this past weekend, and she did a nice story on them that quoted me a bit (if this link "rots" over time, here is a .pdf I saved of the article).
It's very difficult to step into an intense subculture of any kind, and do it justice in a newspaper report, but I think she accurately captured what I call "the skate tribe" in its usual fine form. She saw the intensity, focus, & "mask" required for racing, and then the camaraderie off the ice.
She did miss the factual item that James Clay Warren finished second to me in the 500m, not Matt Plummer. But that's ok, being a reporter is really hard. If you asked me to cover a basketball game, I would fail miserably at describing the subtleties & subculture of that sport, and probably miss statistics too.
The photographer at the event grabbed a FANTASTIC photo of Michael Stein-Stewart, that goes along with the article. Mike has level shoulders, hip to the inside of the push, good blade direction, and the NIKE logo is even visible to make sponsors happy. I follow him during training every time I can. If I could figure out how to build corner pressure through a turn the way he does, I'd be skating some scary fast times.

I won't republish the shot of Mike here out of deep respect for digital copyright. But again here is the link to the article.
Hedi also wrote about Saturday's races as well (here is the .pdf)
Thanks Heidi!
Speedskating has won more Olympic medals for the USA than all the other sports combined. We skate tribe members know that it's a beautiful, inspiring, fascinating sport full of unique stories. It's nice when the media shows up and agrees outside of the Olympi-gasm.
Here is my visual evidence of what I am talking about, April Medley has been really sick recently, however she desperately wanted to qualify for World University Games & her performances this weekend were not up to her usual standard. In her final chance, she threw down a technically excellent 5k, even though she was obviously tired & not her normal self.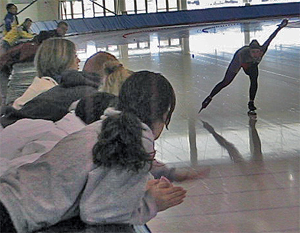 There was a whole row of people screaming, hamming the pads, clapping, and yelling encouragement as she suffered through her last 50m. It was LOUD, and some of the loudest were other skaters who had beaten her earlier in the weekend.
April made it!!! And will be on the plane to Torino for the World University Games in late january.
You can see how happy she is, here with fellow qualifiers, from L to R, Tani Mintz, Ashlee Barnett, and April. For all 3 of these athletes, this will be their first time competing overseas. Good luck!!