Posted on 03 Dec 03:01 pm
My battered iBook passed onward to digital heaven this past Thursday. As it's final act of loyalty, it had several visually spectacular crashes in its final 24 hours, so I had ample warning to back up everything on an external hard drive.
Some inanimate objects, like cars, or bicycles, develop "personality" over time. This laptop never had true personality to me, It felt more like a comfortable office or an inspiring art studio attached to our house that I have spent a lot of time in over the past 3 years, often 6+ hours a day.
And suddenly my "studio" has burned down, and I will never work in it again. I saw the smoke and saved my work & canvases (like every post & image I have ever made here) but the room is gone.
I have an ancient iMac at my house that will work temporarily until I can afford a new MacBook (drool!) and I have loads of stuff to post from this weekend's exciting America's Cup/University World Games Qualifier.
But for a moment, before I look ahead to the new, I just wanna say; thanks old friend.
Laptop & me, at a coffee shop this past April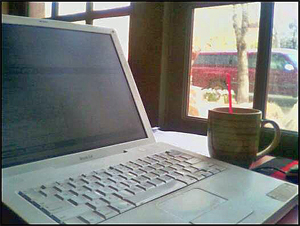 Filed under: from home