Posted on 17 Dec 11:52 am
The Whole Foods supermarket announces over their loudspeaker that the Packers game has just started, the Pack is ALREADY losing 3 to 0, and that you can go over to their lounge where the games is on, have some organic bratwurst and beer, and watch.
I am working at the free wi-fi in the whole foods market coffee shop, and am pretty much dying with laughter as I write this. There are SO many interesting contradictions in this!
I wonder if they will give score updates on the store loudspeaker as the game goes along… hmmmm.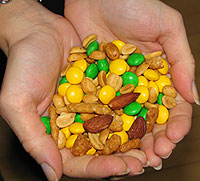 Maybe I will just have to go buy some Green Bay Packers Gorp, and check out the modern & unique convergence of "health food shoppers/harcore Packers Fans."
Or as my brother explained when I told him this story: "this proves there are organic cheeseheads".
Update: the lounge is full of fans & shoppers, & employees on breaks.. the Pack is now leading 10-3, and organic bratwurst is quite good.
Filed under: on the road