Posted on 20 Jul 09:36 am
The jet I am on bumps it's way through the turbulent haze covering western Massachusetts.
36,000 feet above the ground, and I can feel fatigue shedding from me like dead skin from a sunburn.
Below I can see the unmistakable Quabbin reservoir & the towns of the Pioneer Valley. I recognize dozens of roads & hills. This is the place I became a bike racer during 4 years of College.
Evan, Stephen, Chris, Donnie, Jude, Peter, Josh. All you amazing warriors from the Hampshire Cycling team from the early 90's. Am I the only one still restless? still driving big gears & suffering on the road?
Is it a sickness to stay in a bike racing or a sickness that makes one leave? Are they the well-adjusted ones?
We are gone but the roads are still there, alive like a nerve-wire map in a living body. I could ride those roads again, but as the philosopher of our team (Stephen) told me in 1992, "it will never be this way again."
A bicycle or a pair of skates moves so slowly compared to a plane. Time moves even faster, and in a few moments those roads and those years, fade in the distorting exhaust exhaling behind the jet.
(this writing, merely more exaust, distorted by years)
The next day, I am driving on route 79 in Upsate NY. This is the landscape that generations of my family have lived on for 220 years. Click on the image for a bigger one.
Like those roads in Massachusetts, I've traveled this one thousands of times, always towards home. We all have those roads, those that mean we are "almost there".
I need this rest, to recharge, to heal myself in body and mind. One of the interesting things I've noticed about elite ice training plans, is that they all include at least one week long break in the fall.
When you are hyper-motivated, the challenge is rest. It takes over two weeks to notice true declines in fitness from complete inactivity. However the muscles, tendons, and the soul can heal much faster.
There is no better place to do it than on your ancestral stomping grounds.
Recommended activities for a break from training usually include things like the Ithaca Farmers Market, drinking Gimme Coffee! and eating apple cider doughnuts. Ahhhhh.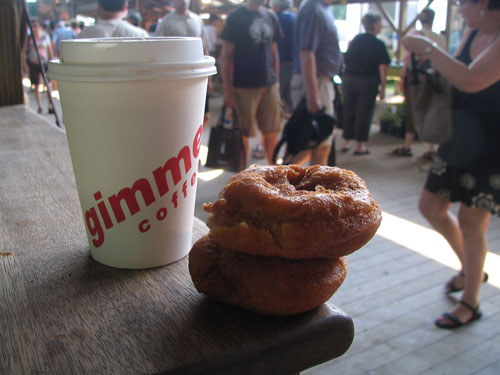 At this moment of my life I can occasionally, momentarily glimpse that massive wheel of life spinning faintly in the background of all things.
Or when I glance at my wife, suddenly I'm on that ferris wheel, Feeling that fall down one side & the uplifting rise on the other.
I will be back to speedskating soon. I'm rested & ready.
Filed under: on the road