Posted on 05 Jan 10:50 pm
I turned 38 today.
I've never been successful at writing about getting older, and that's odd because I'm pretty good at talking about it-
but I do have one picture I am happy with.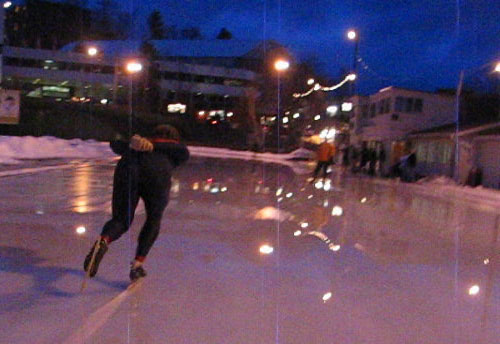 This is me, the day I turned 36, skating during a global warming inspired evening at Lake Placid. It must have been 50 degrees and skating was comfortable with no gloves or hat.
It was so beautiful, the lights, 1980 Olympic buildings & the sky reflecting across drenched ice. The skates were throwing roostertails of water like powerboats.
I just kept skating and skating.
My family was in Placid too, and I knew that the moment I stepped off the ice, I'd be having dinner with them & the whole assortment of excellent people that is the east coast skate tribe in town for the Jack Shea races the next day.

(and we were singing in the rain all weekend, this link is probably the best skate video I've ever done)
So instead of putting on the macro-lens & trying to gain perspective, I am zooming the focus the other way.
This one moment, this one day, this one life, this sensation of flight that completes me & the good people I have met while pursuing it. I will let this moment stand to explain all others. It's good.
(post written while baby-wrangling; RZ, you complete me too!)
Filed under: from the coffee shop