Posted on 21 Jun 04:11 pm
Anyone who has ever skated Long Track at the Pettit center in Milwaukee recognizes 2 time Olympian Dave Tamburrino's intense face at the end of the straightaway. He is usually so completely concentrated & involved with the 20+ skaters he currently coaches it's hard to grab a word with him. But if you catch him off the ice, he is warm and quite funny, with an offbeat sense of things. I though these qualities made him the perfect candidate/victim for a ZEN 10 interview. I have so often been tempted to ask Dave what really goes on in that brain of his, now here is my chance!
1. I asked Casey Fitzrandolph what was the craziest thing he ever saw on skates. This is the story he told me:
"We were training in Inzell, Germany. On that track, the Zamboni's enter in the corner. One came onto the ice just as Dave Tamburrino came around the corner at top speed doing a flying 400m. I thought Dave was going to die for sure, but he leaned completely over, put his hand on the ice, and did a perfect graceful short track pivot around the Zamboni! On his long track skates!"
Do you remember this? And do you have your own "Craziest thing on skates" memory to add?
Come to think of it, I do remember that - about 8 years ago or so. Which is surprising, because I couldn't tell you what I wore to work on Friday. Craziest thing I've ever seen on skates: Johan Koss beating Frank Dittrich by over one lap during Koss' 10,000 meter gold medal performance in 1994.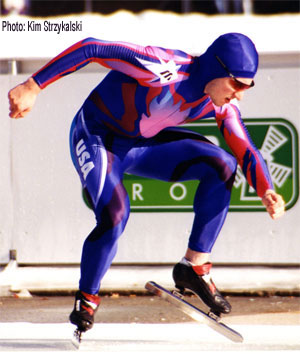 2. You went to 2 Olympic games, 1994 and 1998. What moment from the Olympics comes first into your mind when you think to your experiences there? I have heard from several Olympic skaters that your first trip to the games has a vastly different feeling than subsequent ones, was this true for you?
Hearing 75,000 fans go crazy for the USA during the 1994 Opening Ceremonies gave me goosebumps, and thinking about it today still gets me pumped. My first Olympic experience in 1994 was like going to Disney World for the first time. The second time in 1998 was like punching a time clock before starting work.
3. Do you have a couple of core principles you follow as you write the training programs for your skaters?
Each morning in Africa a lion wakes up knowing it must be faster than the slowest gazelle if it plans to survive. Each morning in Africa a gazelle wakes up knowing it must run faster than the fastest lion if it is to survive. It doesn't matter if you are a lion or gazelle, when the sun comes up… You'd better be running.
4. What are the major mistakes athletes who train on their own, withut the benefit of a coach, make?
Don't know. If I'm not coaching an athlete, how am I supposed to know what mistakes the athlete is making?
5. Do you miss skating full time? When you arrive at the Pettit Center for those dawn time trials, does the competitive urge flash within you? Or does coaching/your sweet job with the milwaulkee brewers fill that need?
The only thing I miss about skating is knowing that I'll never have an opportunity to make good on the mistakes I made during my career. Racing and training I made some great decisions, and a lot of bad decisions. What I can do is take the lessons I've learned and the knowlege I've picked up along the way and use it to help future generations become their best. Today, I get more satisfaction from knowing my work could result in an Olympic medal for one of my athletes than if I were to go out and try and win one for myself. Been there, had my shot, done that.
6. Tell us something surprising about you or your life, that those of us might have met you through skating would never have suspected:
I'm ranked 23rd on the DezClan Half Life 2 server out of over 500 people. I plan on cracking the Top 10 in the next couple months.
7. What was your happiest moment as a skater? Your win at US nationals in 1988? 5th in world allarounds in 1995? Or is it in some race in a blizzard long ago that everyone else has forgotten but you?
Happiest moment as a skater: Winning my third consecutive National Short Track Championship in 1989.
8. What has been your most satisfying moment as a coach?
Tallying up all of my athletes personal bests at the end of the 2004/2005 season, and seeing tangible results on paper that everyone in the group has gotten faster."
9. Who are some of the good folks of this sport? The smart, funny, good hearted fellas that you still really enjoy sharing dinner table conversation with?
Good folks: The underappreciated officials who make the weekend time trials at the Pettit possible. Thank you, your work is not un-noticed.
10. Speed Haiku Round
1. Best car on the road other than the mini-cooper youdrive
BMW M3 w/ Competition Package.
2. Do you think doping is a problem in speedskating today at the elite level?
Doping is an issue that needs to be addressed in all sports.
3. What coach did you have when you were competing that really influenced your own coaching style the most?
I've taken the best from Pat Maxwell, Diane Holum, Mike Crowe and Gerard Kemkers, and have mixed in a few of my own ideas. And, it is working.
4. Who do you think would be a better speedskating coach, archetypally speaking; Yoda or Darth Vader? and why? (I played hockey for both in my youth, and I was a better player for Vader).
Best coach: Darth Yoda.
5. What movie do you never tire of seeing?
Miracle.
6. Some theorize that our personalities are formed by our defeats & failures more than by our successes. Do you agree or disagree?
Don't know, don't care. Skate fast and make me proud to say that I am your coach.
7. Will Lance win another Tour De France?
Ask Lance.
8. Born in Saratoga Springs, but Wisconsite for a long time now, are you a loyal Packers fan?
Yes. I've been to Lambeau 3 times, and saw the Pack win each time.
9. We are close to the same age, will I ever get the memorable pleasure of going blade to blade with you in a masters race?
Nope.
10. Is there any truth to the rumor that you once lost a bet involving Gunda Neiman's 5k time vs your own 5k time? And that there was nudity involved for loser of said bet?
I'd never offer up the chance to be seen naked outside in the middle of winter.
Thanks Dave! I feel like Darth Yoda has finally spoken, and the skating world is richer for it.
Filed under: Zen 10 Questions: