Posted on 23 Oct 12:42 am
It was one of those simply achingly beautiful fall days that makes you want to walk in the woods with a book of Thoreau quotes, and lose yourself in imagination, and leaves falling thick as multicolored snow.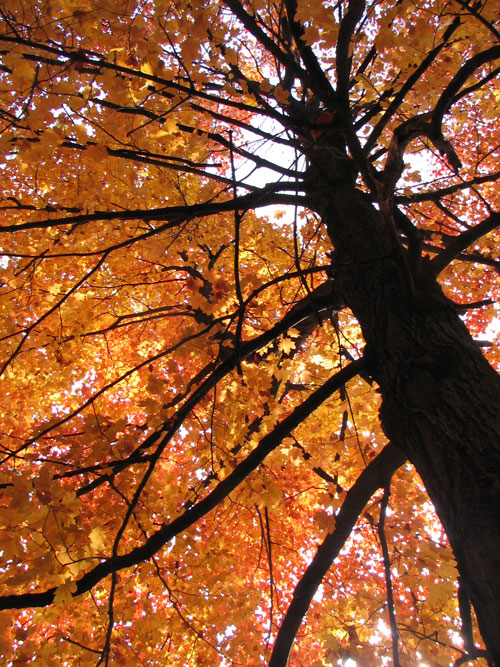 One has to find some way to kill time before a 6pm race start!
At the rink, the wind was blowing. How does the wind blow indoors? They have these fans at the Pettit center that start a circular wind. The effect is a constant tailwind through most of the rink. It makes you MUCH faster. Standing at the start line, you could actually feel it pouring past you, freezing the backs of your legs.
You can see even the huge, tapestry weight American flag at one end of the rink rippling in the wind. This is a really big flag.
I am not sure of the purist ethics of using fans to make a sea level rink- altitude rink fast, but it's sure fun to skate.
My hat is also off to the new ice techs at the Pettit center, you can tell they really care. The ice is the best I have EVER seen it, hard, grippy, thin, and just a lot of fun.
The time was at hand, Olympic trials began. I like this pairing of images, one from my walk, the other with the Heather Richardson & Jen Rodriguez zipping down the 100m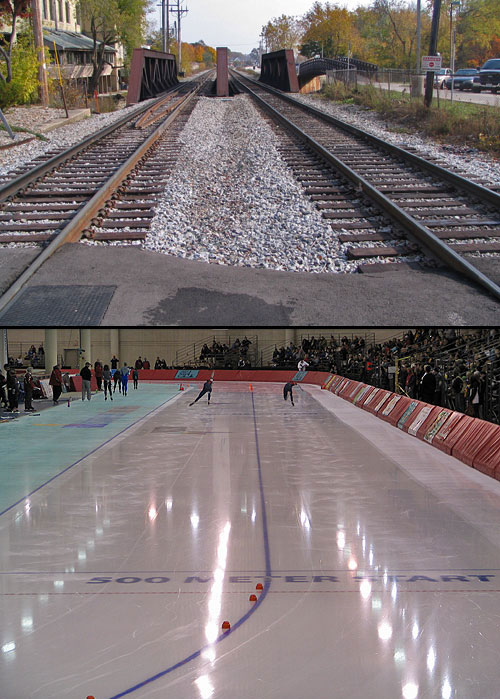 It was a day of AWESOME skating. There is nothing more inspiring and heartbreaking than Olympic trials. All sports are hard at the elite level, but in my life experience, there is something so beautiful, as well as soul wrecking, inherent in ice speedskating.
Before I start with the pictures & commentary, these are the shoes of Chris Needham. He was standing on the start line for one of his 500m races, when I noticed his shoes right next to me. Would you step into these shoes? It's a scary step…
Chris has thrown his soul into the fires of this sport, The world cup team was the top 5, and he was 7th on this day.
Here is Mia Manganello. She's really not a 500m skater, but is showing awesome form here for a solid 10th place.
The awesome power of Eli Ochowicz exactly .5 after her first movement, probably .75 or .8 after the gun went off.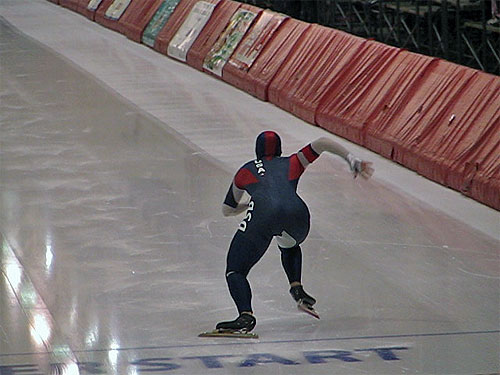 I heard that for sprinters, how far they get down the track in the first second of a race almost exactly correlates with the finish order.
She won both 500m events handily. You can see full women's results here
The US national Sprint team ran the table in the women's races, places 1 through 5.
Then it was time for the Men—
Here is Robert Lawrence, opening in a 10.1, in the locker room later, he told me he was amazed he went that fast.
Robert, I present evidence to you of why, check out your body position! Remember he is attaining low precision like this with the tempo of a machine gun.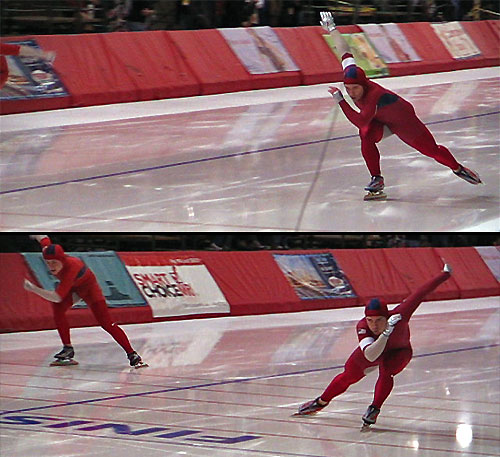 Brent Aussprung, collecting himself in a quiet moment, & getting ready to execute what he has practiced over and over…
And then something horrific happens—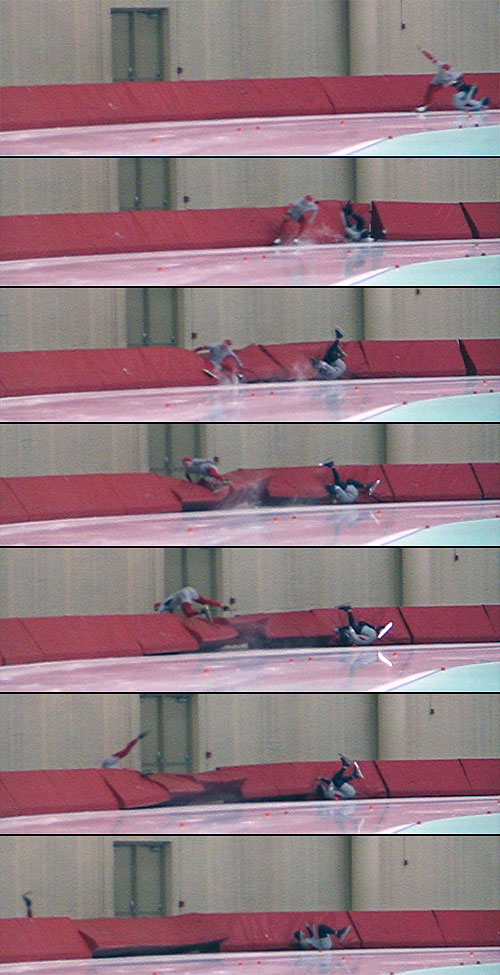 Lawrence Ducker falls and slides into Clay Cholewinski. Both skaters hit the wall, and Clay flips over it and impacts the running track and concrete on the other side violently.
If you look at the final 2 images, notice Clay's leg in the air, then the last image is is OTHER leg, as he hits the ground so hard it snaps the clap mechanism open.
Lawrence was up soon. Clay did not get up.

I have trained with Clay for several years, and it was agonizing to watch this.
I realized at that moment we need some ritual in speedskating, like when football players gather on one knee in midfield, gathering together when a fellow athlete is down and it looks bad.
Clay did finally get up. That is his mother with him (I chatted with her on the flight out to Milwaukee). Clay was bruised & battered, but ok.
And Clay did a reskate, and did a 36.6! He is a low-key kind of fellow, but I think all skaters will now acknowlege that he has BALLS OF STEEL!! That must have been so hard.
Remember Brent? Trying to gather his thoughts? After that long intermission, it was his turn, and he went scary fast. 2nd only to Tucker Fredricks, awesome skating.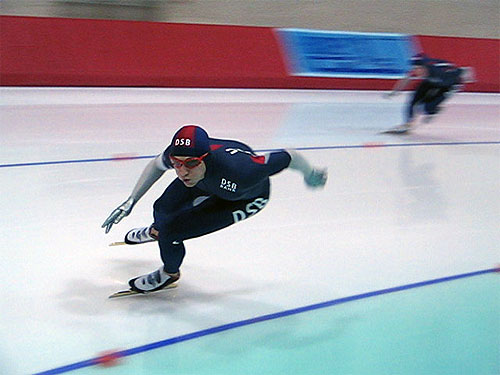 Yeah, Tucker. It's weird, like Elli Ochowcz, Tucker has absolutely dominated the 500m men for a few years now. He is an absolute rockstar in performance, but other skaters get more press.
Two friends of mine, Parker Vance, and Matt Shanahan, two of the fastest starters in the USA after Tucker. Lots of fast twitch fibers between these two.
But this sport can be cruel. Matt has worked so hard, and this trials was not what he wanted it to be.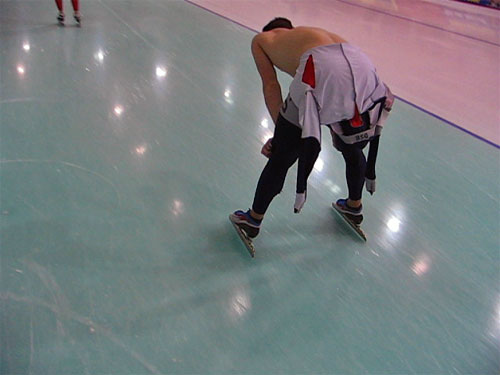 But another Matt had great success. Matt Plummer in Grey, was THRILLED with 5th overall. Mike Blumel, missed the world cup team with 6th. A total of .3 between these two after the 2 500m races. Nice compact form for both athletes here.
And what can you say About Shani? Or the big guy Nick Pearson? 3rd & 4th places after two 500's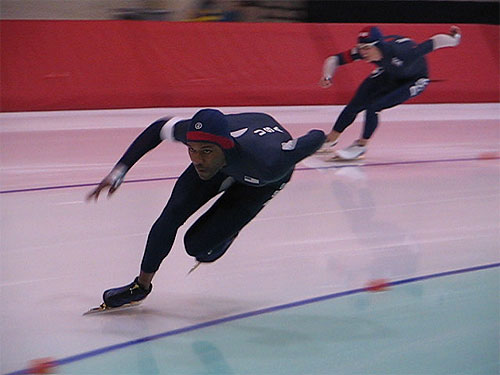 You can see the complete results here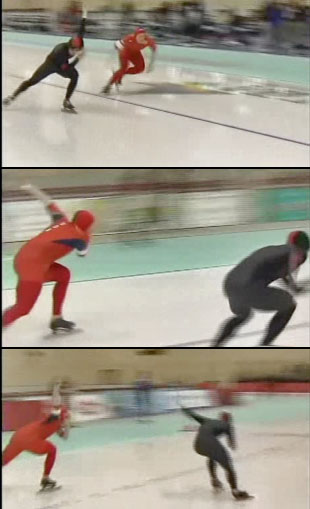 As for my own races, I skated well, not stunningly, but given the time I have to train, it was about a 7 on a scale of 1-10.
38.11 and 38.22. Both races had really good parts, a slip in the first turn of race #1, a bobble 3 steps into race #2. I should have nosed under 37 with both races if I had skated perfectly, but not by much.
21st overall out of the 30 men. I knew I'd be somewhere around there. Even at my absolute best low-37 sea-level races from a few years ago, I would have been no higher than 15th.
The really weird part was the 2nd corner of my first race completely disappeared from my memory. I crossed the finish line and had no recollection of what I had just done.
My coach said it was a fine turn.. Hmmm. Maybe I should try to "not think".
Olympic Trials, my 2nd trials. Over. Probably will never stand on this mountaintop again.
Maybe I will, maybe not, and that's ok. I'm happy.
In the blizzard of emotions running through the athletes here, I feel strangely centered. I think it's another thing I need to thank my Daughter for.
Filed under: Olympic Trials