Posted on 24 Oct 10:27 pm
As beautiful as yesterday was, today was AWFUL. Rain & slop coming down. Gotta love the upper Midwest (please pour me some hot chocolate please!)
Skater Anne Bruckner told me, reflecting on the day's races.
One person's dreams is another's heartbreak.
And it's so true. This is a sport. There are winners and losers. We do it for these reasons; it brings out the best in us. Winning teaches, and losing often teaches more. But it's still hard to see the heartbreak in so many good people, who have all gone "all in".
Enough Philosophy, onward to the races!
KC Boutiette. 4 time USA Olympian, just doing the 5k for giggles. Derek & Chad might be the "face" of inline to ice, but KC is the trailblazer.
I would not have ever thought about tying ice speedskating, if his career had never happened
So thanks K.C. from me, and a whole lot of other inliners who are now on the ice.
Nancy Swider Peltz, on her way to a fine performance, women's 3k. The top 3 women were all within .32 of each other.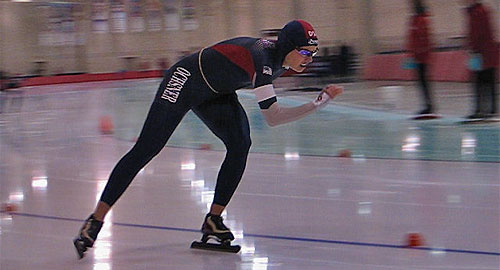 Now Nancy is one of the best technical skaters out there, and she might object to this image as less than perfect technique. But yaknow, this is her last corner of a scary fast 3k.
Nancy told me she did not have a great day, so even though this is imperfect technique, I will tell your what is perfect here in this image: dedication, effort, drive, suffering, and how hard she has trained for her whole friggin life to answer this very moment.
Jilleanne Rookard, aggressively tackling that difficult first turn in the 3k. She skated with tremendous power and drive. This looks more like 1500m body position! She took the overall 3k win. The top 3 women were all within .3 of each other. Did Jill win it here?
The media room upstairs, a good place to watch from. AP & Reuters were here, as well as Peri Kinder, who was Twittering away results right in the middle of the photo.
People ask me if I am on twitter, or if I will ever do it. I am sure I'd love it, so that is EXACTLY why I don't want to. Why put another digital crack pipe in my life?
Matt Plummer, 3rd warp speed corner, in the 1000. Matt is ON, lots of powerful things happening here. He was good for 11th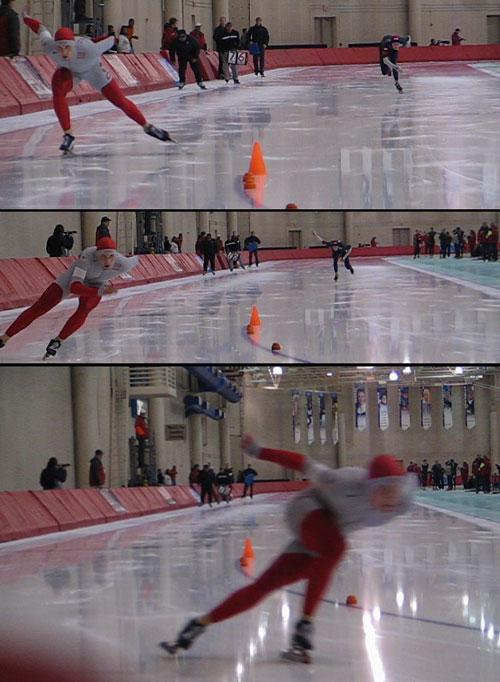 Tyler Goff usually is a gamer who steps it up during the big races, but he was skating with a severely torn abductor muscle. Every step with his left foot created this expression on his face. Ouch. Heal soon good buddy.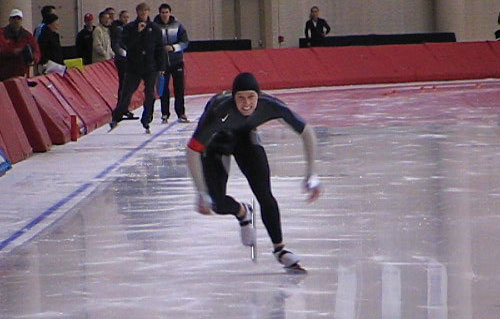 Shani & Nick went 1-2 in the 1000m. Shani beat everyone else by 2 full seconds. Here they are at top speed, about 400 meters into their race. The 1000m, like the 1500, you need to shift into a "5th gear" of sustainable high speed, and hold it. These two amazing athletes are in 11th gear here.
And then in the final turn, Shani cruises by Nicks pain face. I can't imagine going this fast.
Pat Meek, 5k. In all the videos I have of this race, those of us who train with Pat were really LOUD, cheering him on, because we want all that sacrifice we saw be rewarded. He threw down hard, and was 8th.
Paul Dyrud, Satisfaction of a good 5k (6th) and smiling at the cheering & noise from family and skate-tribe friends. I bet his legs feel like he has been beaten with hammers, but when you see your family, so proud, that is a stronger feeling than mere pain..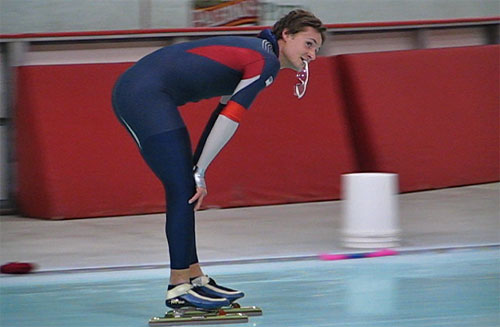 Those of us on the ice side of the pads know that we would be so much less without those in the stands.
Jonathan Kuck is part of the youth movement reverberating through speedskating. He is 19, but already skating man-strong times.
He placed 4th in the 5k and 1500m, qualifying him for the world cup in both distances.
In this series you can see his zig-zag weight transfer using the whole lane. What a style like this is trying to accomplish is using the body weight to create pressure in addition to the push from the muscles. He is falling from push to push.
Yes, the path traveled is somewhat longer, but the velocity created is greater. This does not work at sprint velocities, but it can work really well in the 5k & 10k.
Here is something that the cameras missed, when Shani beat Chad's time in the 5k by a few tenths, who was the first person out to congratulate him. Chad.
Are they competitors? Yes, absolutely. But there is also clear respect there. These 2 men are some of the best in the world, and because the other one exists, they both raise their game.
And it's not just Chad & Shani, the level of competition, at every distance in these trials, has been absolutely tremendous.
Not to sound too overly nationalistic about this, but athletes don't appear out of thin air, they are part of a culture, an informal society, a web of families, coaches, training partners, friendships. Despite legit quibbles here & there- there is a pretty good skating culture here.
When an Olympic team is eventually named, they do represent "us", in all our good & bad, and it's not too weird to take pride in them, just as they take pride wriggling into that National team skinsuit with the USA on the back.
Filed under: Olympic Trials