Posted on 02 Dec 09:37 pm
Pictured below- a slice of bacon and a doughnut that was handed to me by Chris, of Dharma Wheels Cyclery, during a recent cyclocross race. Weirdness like this is totally in the spirit of 'cross. I stuffed them in my skinsuit mid-race, and wolfed them down after the finish- completely satisfied in mind, body, & soul.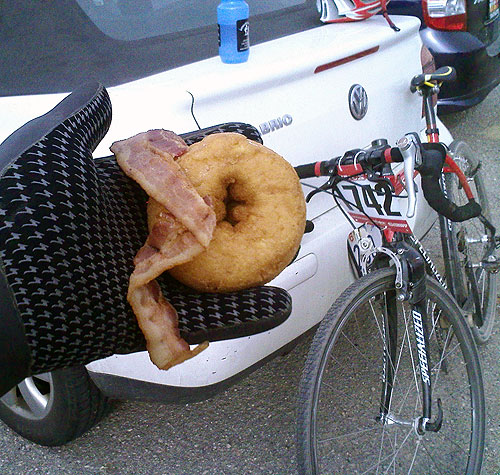 The fast twitch muscle fibers that make me a good sprint speedskater makes me a mediocre cyclocrosser; but I don't care, it's so much fun.
Note in the background of the above picture the bent angle of my saddle. My rear wheel was also so smashed up, it barely made it through the frame.
It's refreshing to not care where I finish. I get far more worked up & focused/worried about an 800m tempo than 40 minutes of max bike effort. It's enough just to go out into the woods & mash about, to suffer on something more varied than the frozen hamster wheel. It feels like freedom.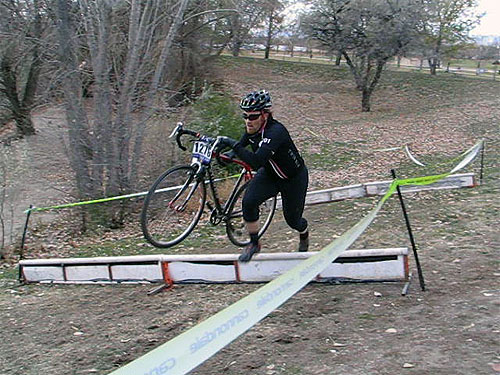 My absence has not just been just from writing here, people have been asking me/emailing me about where I am- friends at the oval ask "are you ok". It is completely normal for speedskaters to have a November slump.
However, what I am experiencing is severe life turbulence, even though I am fine.
Being a deeply involved dad & a professional at my job is hugely important to me. I train when I can, but just realized I have not been able to train hard enough to really need a true rest week since July, and that was hugely depressing.
I remember reading a quote from Bjorn Daehlie, the best XC ski racer of all time, basically saying "you need to make sure your skiing and training commitments always come first". For years of my life, that is how I lived, I was 100% committed to skating.
However, those times are over, and they pale with moment like RZ saying her first word a few days ago (just to me, she won't say it to anyone else). Her first word was not mom, or dad, it was TEETH!!!
She loves teeth, and is always poking her hand in my mouth to grab mine. My racing gets a bit slower every year, I'm fading into the back of the pack at local cyclocross races, but other things are filling me up with so much joy.
I will keep writing when I can, it's Olympic year after all!
Writing this down makes me feel better about it too… But I still hate what the stopwatch/electronic eye says about me when they pronounce judgement on a skating effort.
Filed under: from the coffee shop