Posted on 17 Dec 10:58 am
Some days feel like they need a superhero to give you the thumbs up. Sometimes human effort seems not enough.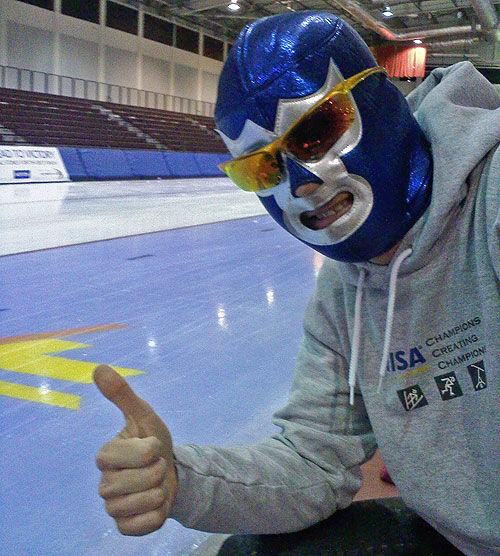 The Blue Demon has appeared at the Utah oval before. Especially here & here-
Small sport athletes need that sometimes, to have that tiny moment of superhero recognition commensurate with what this sport demands. With the Olympics at hand, it's good to feel the world's attention suddenly revolving towards our microscopic sport.
It's a blowtorch of love, of appreciation. You don't have to be an Olympic caliber skater to feel it.
I am no superhero, no Olympian is a superhero. In fact superheros don't exist. As I get older, it seems that the courage to keep on keeping on through the rough patches of everyday life, with nothing but mortal strength, becomes more & more impressive.
A senior producer from the Colbert Report emailed me. They need someone with experience filming while skating. What they are doing with skating is pretty amazing, and very 21st century. It did feel, for a brief moment, like some weird kind of Superhero thumbs up!
Filed under: from home