Posted on 21 Dec 02:14 pm
(I just need to publish things before time gets out of hand.. This was half done a week ago… meh…)
Snowstorms, rain, horrid weather. I usually like racing and watching in epic nastiness. But this was so bad, everyone was grateful for the indoors. Here is Wang Beixing throwing down the fastest women's opening 200m EVER. She uses her leg legth for super long pushes & leverage on the ice.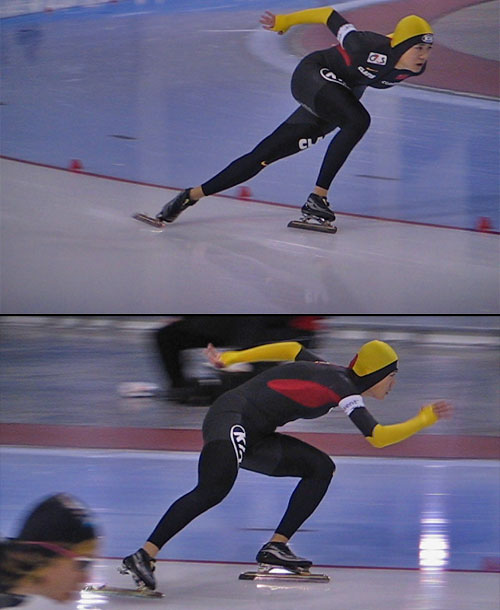 She ended up second overall to Christine Nesbitt.. The Canadian women have their phasers set on ANNIHILATE this year, and I think also some of the best looking skinsuits on the world cup circuit.
Kyle Parrot ripping out a great world cup race. He has improved a lot over the past few years. I met him in Calgary the summer of 2002, my first time at an indoor track. We were close to the same speed back then.
The weird thing about that camp, all those years ago, was also there was superfast Canadian Nicole Garrido, and Ashlee Barnett, who also is skating at the top level in the USA, and does a good amount of childcare for Jess & I. Small world.
Jeremy Wotherspoorn, ripping a 1000m. He has skated some of the most brilliant races I have ever seen in person… Jer, many of us in the Speedskating world are cheering for you. I have chatted with him a few times, this is such a nice guy…
Trevor Marsicano struggling at speed, he did the exact same thing in this high speed corner last year when he was only the second human being ever to skate under 1:07. It's hard to control a 24-second lap!
Contrasting styles of the uber-smooth "catman" 1998 world sprint champ Jan Bos, and the fighting style of Chad Hedrick… Jan is flowing in his skating, and Chad just fights like crazy. But I have always pointed out that when you slo-mo these top athletes, or just see static images, you can see that their essentials, like push direction, are always perfect. Push direction is what counts.
I think they have named a flower after Jan Bos, it's a dutch Hyacinth. Here is how it is described, and a direct link. This sounds like a speedskater to me.


The elegant flowers are as fade-resistant as they are beautiful. Grow them outdoors or indoors for their graceful shape, long-lasting blooms and sweet scent. Hyacinths are great for indoor forcing–
But when talking about the 1000, one must talk about Shani. Here is his knee bend angle, torso lifting, push direction. laps 1, 2, 3. Perfection matched to power.
So Reggie Jackson has a candy bar, Jan Bos a flower. What does Shani deserve? I think a car. The "Davis Special".
Team Pursuit
The US women were on the verge of NOT qualifying for the Olympics, as only the top 6 teams in the world get to go. Here they are, watching the top Dutch team fly by after they have already raced.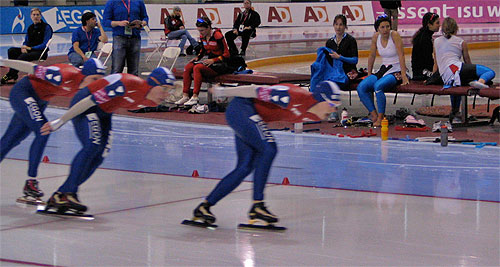 They did just manage to BARELY sneak in. Yay!
I've talked a lot about the youth movement in American speedskating, and how there are many incredibly talented skaters under 23 years old. These young men skating the team pursuit are a bright part of the the future, Brian Hansen, Trevor Marsicano, and Jonathan Kuck.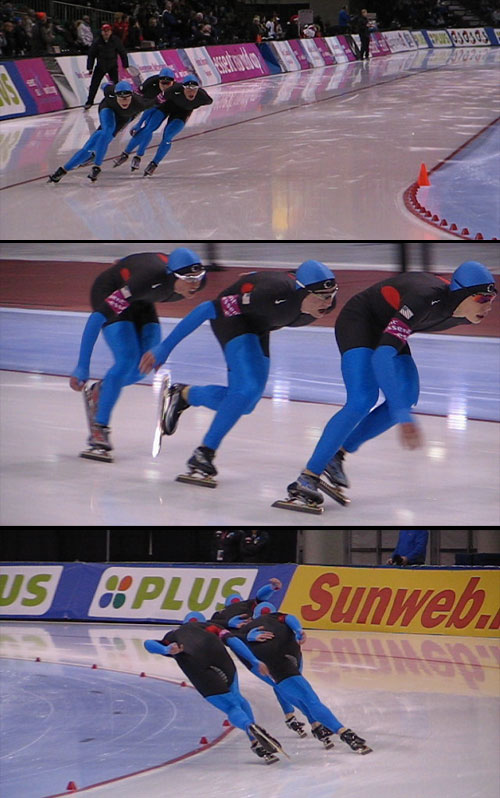 After every O-games cycle, there is endless bellyaching when the stars retire. But this time, no matter the results in Vancouver, there is so much reason to be optimistic for a very, very long time.
Filed under: from the coffee shop