Posted on 23 Sep 08:35 pm
Yaknow this song. Pick up your instrument!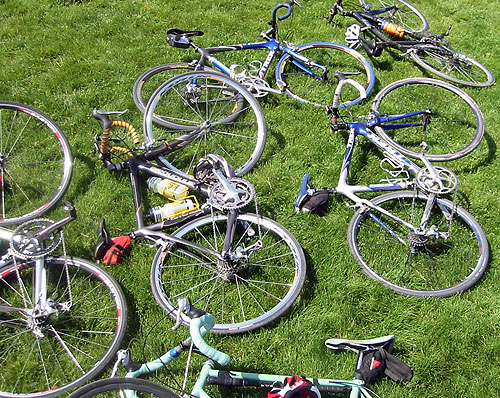 Startin easy, noodling the notes & getting in tune with heart & breathing… Finding well practiced frets in your muscles & joints.
Carbon fiber shiny aluminum glinting across tuned strings of men-
beginning to thrumm out through stanzas of road, measures of climbs, bass clef of earth, treble clef of sun.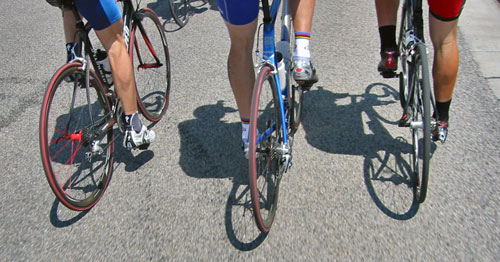 Packa hungry cyclists finding its inner band, it's cohesion, swing band, jazz band, Rock! Symphony of this right now.
Big gears turning windsound earfuls of noise.
Best instrument? The human heart drum drum drum endless big mallet Taiko grim faced drummer your life in that thunking speaking hollow bell ker-pow-pow-boom!
Music hiss tires and the speed builds, shadows & legs moving sync piano run of the peloton, fingers on gearshift levers / flute keys french horn Allez! Allez! Allez!.
Tires in the pack clustered arpeggios of movement. Echelons of notes, drive that gear & don't drop the tempo!
Sheet music of asphalt, relentless rippled grey pages.
Graceful arcs of carbon, double-note outlines of muscle, chain and cable in tune, geartooth songtooth muscledrum.
Roar of blood barely contained by arteries saxophone wide open.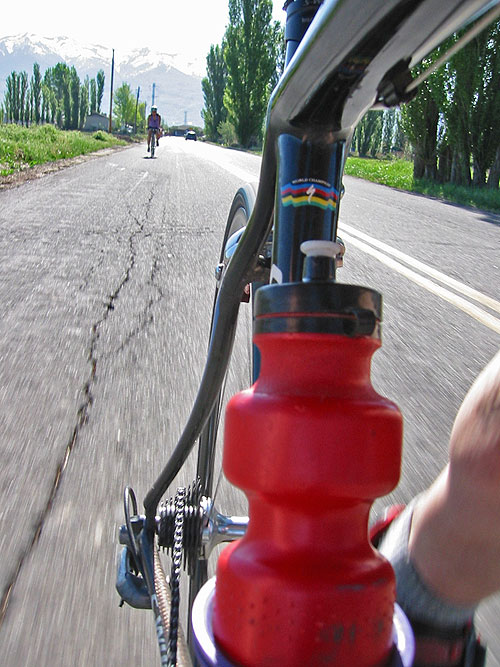 All lined out in hardsong, world dissolves to that one tire waving in tunnel vision of crescendo,
15 cog, 14, clack, 13! Whirr, 12 wirrr— 11??? what are you made of? Can you really play?
The one trumpet, vibrato velocity, as the music moves & you move, chasing & leading.
Willpower– there is the microphone and so pull through. So sing! Sing! ya bike rider with every note in your body! sing! roadsong is the bestsong,
Sing! that one long uptempo vowel of cyclesong…
Thanks Glen-Josh-Samuel-Brett-Brent-Rick for playing in the band/ride today. It was awesome.
Filed under: from home