Posted on 05 Aug 03:27 pm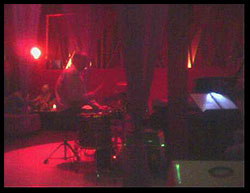 The jazz band was pressurized like they were jamming in the belly of a nuclear submarine cruising 20,000 leagues under the groove sea.
Their song selection was Red Hot Chili Peppers, Prince, Portishead, Fleetwood Mac, and John Lennon. No vocals, just smooth periscopes & torpedoes of groove, sh-boom, sh-boom…
Jess and I shared sushi and plum wine, and celebrated our 5th wedding anniversary. Our emotional sonar peering into the future & looking back. This amazing life, my amazing wife, 5 years… wow…
Somehow this feels like this will be my last speedskating season, I have worked so hard, but every submarine must surface. After several glasses of sake, and glorious raw concoctions from the sushi bar, this fuzzy reality seeps in, and it's ok…
The next morning, Jess goes off to work, and the dog and I do an easy recovery jog on the Salt Flats. I am still sore (and that's normal) from my intense day in the weight room. I find peace in the weirdness & foulness that is the Salt Lake.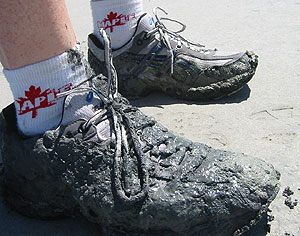 The recent rains created bands of slop; If it's possible, Lilly did her best to get more muddy than my shoes. After a two miles of mud-trotting, & Lilly doing multiple mud-angels (like us humans make "snow-angels") we arrived at the water.
Lilly waded out and flopped in the six inch deep sea-monkey filled soup of the great Salt Lake, wagging her tail furiously in the constant NOW of being a happy dog.
She kept looking at me as if to say: "come on in, the slime is GREAT!".
Someday Lilly will be gone, someday the Salt Lake will dry up. Someday America will be gone like Rome is gone, my skate blades will rust away to nothingness, and this body I inhabit will be returned to its natural element breakdown: 65% water/35% coffee grounds & lime Gatorade mix.
But for now, for this brief moment I have, I love my wife & the last 5 years of our marriage, and I want to return every ounce of unconditonal love the once terribly abused Lilly shows me. That is enough.
Filed under: from the coffee shop