Posted on 10 Aug 06:11 pm
I once stayed up all night watching a master bike builder turn a bunch of titanium tubes into a finished bicycle; I still ride that bike.
Over a year ago, as I was being molded by Bruce Koen for the custom speedskating boots I now wear, I got a picture of that beginning.
Raw beginnings fascinate me, so maybe that is why every time I am at the oval, I can't stop watching the ice being laid. A watched pot on a stove might not boil, but watched water will freeze right in front of your eyes.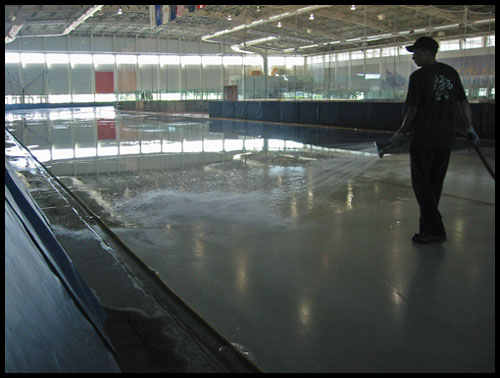 The first day of skating is less than 48 hours away… I hope I can fit my right foot into my boot, I got stung by a bee a few days ago in the ankle, and although I have full mobility, the swelling makes my foot look really odd.
A wise friend once said to me "things are best in their beginnings". This idea can be applied across so many spectrums, including this sport; as there are no more reflective beginnings than perfect ice.
Filed under: from home