Posted on 11 Aug 02:43 pm
In the summer of 2002, I went to Calgary for training camp. On a hot, windy Alberta day, Canadian National All-around team coach Arno Hoogveld led the group to a frighteningly steep hill.
Some of the younger members of the camp had been slacking off, and I will never forget Arno standing in front of the group, hands on hips like a marine drill sergeant -and he told us a truth that in my memory replays like this:

"Look at the grooves in this hill. Elite speedskaters from all over the world have made these grooves sprinting and low-walking up this hill…. If you want to be serious about this sport, stop screwing around, get in those grooves, and work hard. I will give $50 to anyone who can run to the top of this hill in under a minute!!"

The group snapped to a razor sharp predatory attention, and within a few minutes, 5 at a time, we were charging up that hill in pursuit of $50.
No one even came close to the prize… But several skaters did throw up along the way.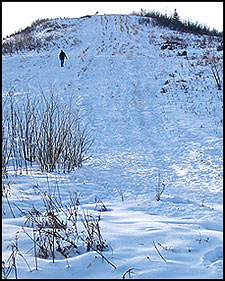 I overheard the coaches talking later that there are only a few men in the world who can make it up that hill in under a minute.
Years later, when I was in Calgary for a race, I went back, and got a good picture of this hill, the grooves faintly visible under a layer of snow. There is a waist high metal pipe at the very top, and you can barely see it here. This sucker is STEEP.
Training camps are not just to create fitness, they are also meant to change habits.
Every summer since then, I hear Arno's words echoing in my mind, and I find a good steep hill to do running sprints on.
I have always thought that if I work consistently & insanely hard, eventually I will wear my own groove into a hillside, if I can do that, then I am truly getting somewhere with this sport.
Today as I was doing my sprints, I started to see that after a whole summer of charging up this one hill 2-3 times a week, -the grass was thinner & flattened along the path I have taken over and over.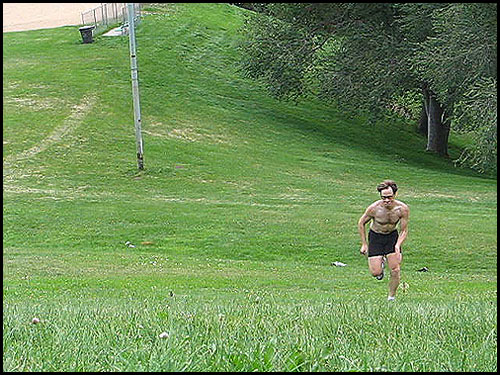 In this sport of constant learning, maybe I am finally finding my groove.
This season I have been training a bit more like a track cyclist than a true speedskater, throwing everything into becoming more explosive & powerful for the first 10-20 seconds of my 500m. I will find out in a few months if sacrifices and "this new groove" translate into results.
Find your groove, whatever it may be, and then throw everything into it. Isn't that what life is all about anyway?
Filed under: from the coffee shop