Posted on 16 Oct 02:56 pm
This weekend I skated possibly my most "perfect" race ever, a HUGE Milwaukee Personal best; 37.42 for the 500m. I am happy happy happy, everything felt incredibly solid.
Here I am at top speed, 75 meters to go. Knee bend is good, body is centered well, but my leg did not completely extended at the end of the stroke. There always is more power to be found, even in what feels "perfect" at the moment (my first few steps off the start was ugly too). If I can just do this again next week!!!!
2 of my best friends in this sport lined up for a 5,000m race. Olu jumped out to a big lead in the first few laps of this 12.5 lap race, and then barely held off the "last lap Langenthal" tractor beam, as she came roaring back in the last 800 meters.
Again, this photo illustrates the essential truth that there is no ideal body type for skating. Look for Olu to fly at world masters championships in Calgary later this year.
Only 6 weeks ago at inline world championships in Korea, Jessica Smith won 2 gold medals in the relay, and an individual bronze, now she is here is on the ice, 600m into a 1000m. She has an astonishing amount of starting line power & speed.
Tani Mintz, came within a second of the fast time needed to qualify for US fall world cup trials in the 3k, like Olu, she was also skating fast in front of the "last lap Langenthal" tractor beam.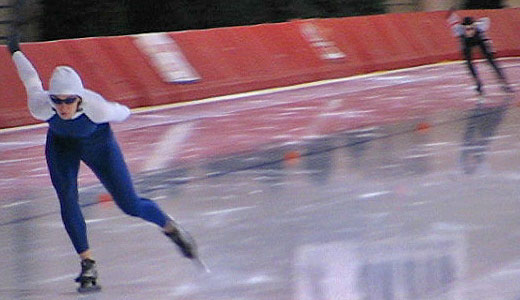 Filed under: on the road