Posted on 06 Jul 02:50 pm
As of right now, here is how hot it is, next to the Utah Oval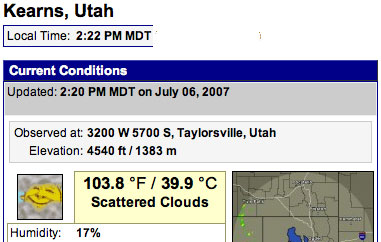 if you note the 17% humidity, at least it's a dry heat!
Of course, in Downtown Salt lake, where I live, there are myriad creative ways of dealing with the heat.. Especially when the parks department creates a watery arch of sprinklers running full blast.
I must admit that while PowerCrank-ing home from a hilly inline skate, I did take a detour through these… Aaaaaah…..
It seems just wrong that folks are skating short track right now, and that long track ice will supposedly be put in sometime this month.
Modern life is FULL of contradictions; too many to list, so I guess gliding on ice when it's 103 degrees outside is perfectly normal.
It's funny, even though I have drifted into training HARD again; it's in a different place & doing different stuff than the rest of the crazy ice tribe who live out here.
I miss my friends, I miss the summer sun slanting into the windows of the Utah Oval & the easy conversation among people who all share the same insane passion & drive for the same wonderfully satisfying, irrational goals.
I even miss the whole pre-season endless wheel-of-pain. Maybe absence makes the heart grow fonder. Hmmmm.
It's a small thing, really, but small things seem to be so much of what our irrational lives revolve around.
Filed under: from home