Posted on 07 Aug 02:06 pm
I'm paddling a canoe by myself, cool air rises from the waters of Rockport Reservoir & swirls with heat flowing down from suncooked hillsides.
Depending on the direction, puffs of wind are either flamethrower hot or cool as this snowmelt fed lake.
I let water run from down a raised paddle onto my shoulders, cutting the heat with icy streams.
An athlete is swimming strongly in the water beside me, long steady strokes, power & glide, power & glide.
Whoa! It's the woman I married!!! And today is our 6th wedding anniversary!!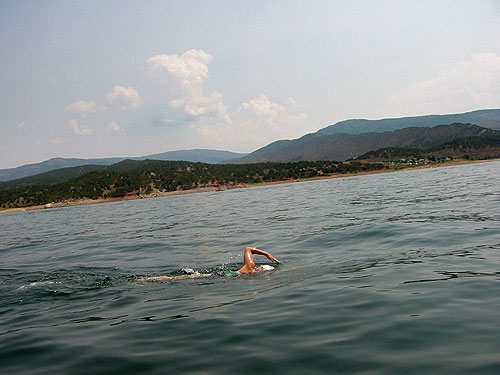 Since reading the book Swimming to Antarctica, by record setting swimmer Lynn Cox, Jess & I both have been fascinated by the idea of long distance, open water swimming.
However, since I am buoyant as a cinder block, & Jess has done a lot of technical & physical swim training for triathlons, when I suggested that I canoe alongside her as she tries to swim as far as she can. She jumped at it as a proper activity for the day.
Although 6 years is nothing compared to the 46 years my parents have together, here are a few musings on open water swimming and marriage.
Marriage is not a 50-50 thing, its 90-10 one day, 90-10 the other. On this day, she was doing 90% (if not more) of the work.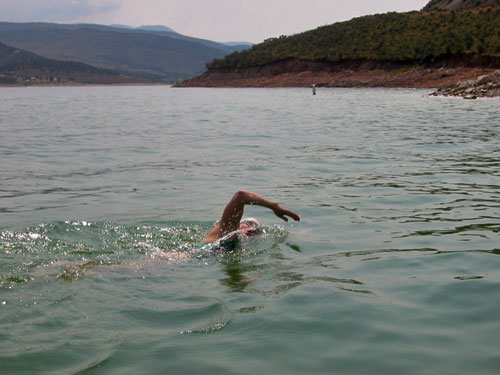 However, that 10% has got to be there. No one can carry the whole emotional or physical load alone.
Jess has given so much so I can accomplish my athletic goals, it felt right that I do something for her, 90-10, 90-10, but it comes out even in the end.
This day I did the essential job of making sure the numerous boats & jetskis did not run her over, and during an open water swim, a swimmer can't see SQUAT, has no directional sense, and relies on support boats for steady directional guidance.
Sometimes, it's ok to be quiet. She was very focused & we said few words during her swim. Swimming is as profoundly a technical sport as ice speed skating is, and glide is just as important.

Sometimes one person leads, sometimes the other does. We found we worked best right alongside each other.
A sense of humor is essential, especially when working hard. She had just done a flip-turn to nowhere & came up from the water sticking her tounge out at me.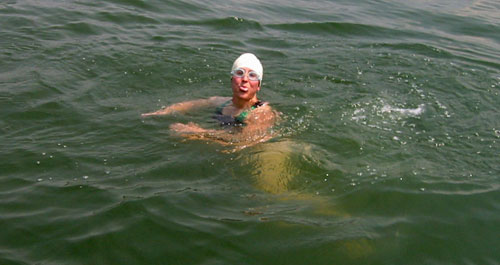 It's really true that after initial infatuation fades, something else takes its place, something incredibly powerful that only grows over time. It's something we don't really have an accurate word for in the English language.
When she has swum as far as she felt like, she joined me in the canoe & we stared paddling back to our start point.
Being the adventuresome soul that I am, for fun I jumped out & tried to swim the 50 meters to shore.
Thrashing & sputtering, without my glasses unable to see much of anything, I felt dizzy after a few moments & barely made it.
She smiled broadly, but did not gloat.
When you are sharing the boat, it's important to agree upon the destination, and to ultimately be nice to each other.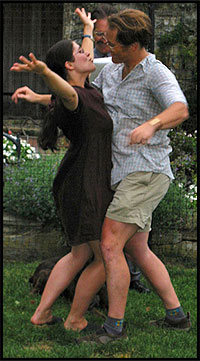 Here is one of my favorite pictures of us, 6 years ago this weekend, my father took this during the ceremony rehearsal. We were doing an overly dramatic end-of-ceremony kiss.
Was that really 6 years ago? Life has changed, as much as our physical selves have. I had no idea ice speedskating would be part of my life, as she had no idea she would do triathlons.
Thankfully Jess does not aspire to do anything as life threatening as Lynn Cox does (check out this video of her swimming in artic waters.. brrr), she will always find ways to challenge herself, no matter the circumstances of our lives.
This is one of the reasons I married her. We are similar in those ways, & she fundamentally respects that crazy part of me, the driven part. She understands.
When describing what we did on our anniversary to my brother, he said sarcastically "yeah, that sounds like you guys".
Yup, every step & stroke & stride & wheel of this long & winding way.
Filed under: from home