Posted on 24 Aug 12:31 pm
During the Olympi-gasm, its really easy to get caught up in the overwhelming love-fest directed to the champions like Phelps, Bolt, Misty & Kerri, "the Redeem team" etc etc…
But here is what interests me: How many athletes does it take to make super-champions like those? How many lives throw themselves into the fires?
You need a lot of chances until that perfect combination of body, mind, background, & the right coaches at the right moments result in a medal of any color.
It takes a wide pyramid to create an extraordinary pinnacle, a vast amount of dedicated individuals, almost all of them who never win medals, never reach the games, or even never reach nationals.
I was ruminating about this on my front porch, 18th century fiction in one hand and coffee in the other, when I see an inliner flash by in the park at world-class velocity.
I grab my camera, and in a few moments capture Derek Parra on his bike leading two of his WHIP program skaters-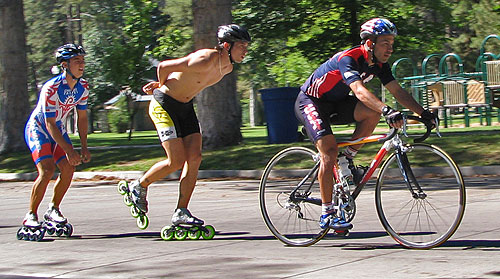 Derek hollers "go to the other side if the park, that is where we are going fast!"
Wow, I would guess their speed to be almost touching 30 mph.
This is Sebastian Cano & Josh Wood, doing one of their final high speed prep workouts before leaving for world championships in Spain.
A casual observer often thinks powerfully smooth athletes make it look easy. Look at Sebastian's face in this second series; world class speed often requires world class pain.

How many amazingly talented people, pounding themselves to shreds, day after day, does it take to get a Phelps? Or to put it in ice terms, to get a Heiden, Blair, Ohno, Davis, Hedrick, Fitzrandolph, Witty, Rodriguez, Cheek, Carpenter?
After their workout was over, I had a nice chat with Derek, who certainly belongs on that list. He has been a part of Elite sports his whole life; I've been at nationals for only 5 years and in a very different part of the "pyramid-of-pain" than Derek.
Derek's program has graduated 3 athletes to the national team ranks. He has so much potential from the inline world in his charge, but Derek himself won't be standing on the backstretch during the games. He has a different role entirely.
How many athletes does it take?
Filed under: from home