Posted on 14 Dec 10:57 pm
There are so many stories happening at races all across the world. But I am just one camera & keyboard, and here is the story I saw at the races on Saturday.
I've written a few times about Tony Sargent, a really nice guy who moved to Utah from Oklahoma to try and qualify for Olympic trials. Tony inline speedskated as a kid, and has competed at the elite levels in Golf. Here is a story his local paper ran.
Tony skated a qualifying time late last year for US championships, but this year they lowered the qualification times significantly. These new times were faster than he has ever skated, and although he has improved, his times were not enough to qualify him for nationals or Olympic Trials under the new times.
So his coach changed his training, and peaked him for this weekend. This race was his last chance to qualify for his first trip to nationals, & he needed to skate a sub 39 second 500m.
Coming around the last turn, his long legs and torso churning, he must have known he was on a great race, and how close it was going to be.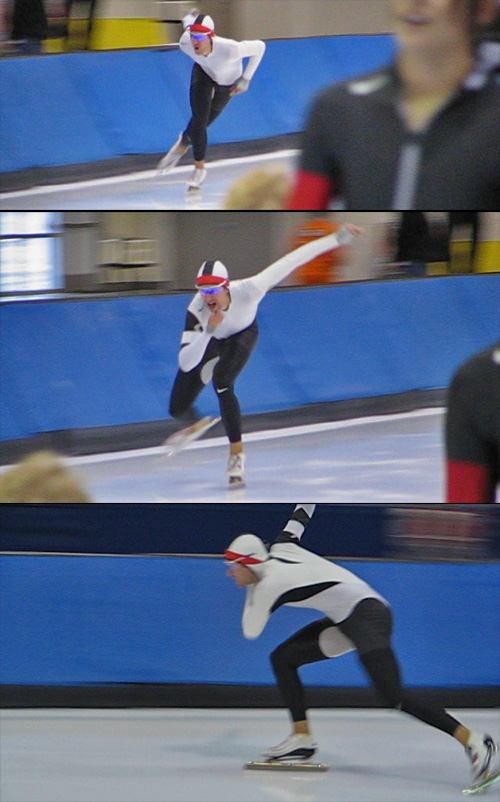 38.93 !!!
The eruption of cheers from his teammates, friends & coaches echoed through the whole oval.
In one moment he had qualified for both US national championships this year, and Olympic trials next year.
I speak often of how this sport can break your heart, but when it's good, when you skate that PB on the day it counts, it's a feeling like….
Well, Tony, how do you feel?


I've called my whole family up, and I pretty much broke down in the locker room, it's just a huge weight off my shoulders. Huge.
A kid from Oklahoma skating Olympic trials! It's a good thing! On the Ice! Not something we have much of there.
This is right up there with my best golf days, it feels like I just won a tournament, even though I will be dead last at US championships.
Before I hit a golf ball in a big tournament, I tell myself that I am the best golfer out here, and I know I am going to hit a good shot and I do.
So, before my race today, I told myself that I am the best one out here, and even though I did not skate the best time out here today (note: 13th of the 20 skaters)
I skated my best time, better than I have ever been before. The best Tony that I have ever been.
Congrats Tony! I looked at some of your earliest times, and that kind of improvement is truly remarkable.
From a 47.24 second 500m to a 38.93 in two years takes a stunning amount of hard work!
You would have beaten your first race, head-to head, by over 80 meters.
(check out the cool graph on this German website, DESG, and in english, all of Tony races)
Filed under: RACE DAY