Posted on 23 Dec 08:15 pm
What is the heart & soul of speedskating? What is the essential bedrock of this sport?
It's a hypothetical question with many right answers. But I found some of the best answers I've ever seen during a low-key practice I just skated with the Garden State Speedskating club;
Here are the skates of East Penn Speedskating coach Hence Bollinger and one of the organizers of the Middle Atlantic Skating Association, Al Harding, relaxing after a solid practice.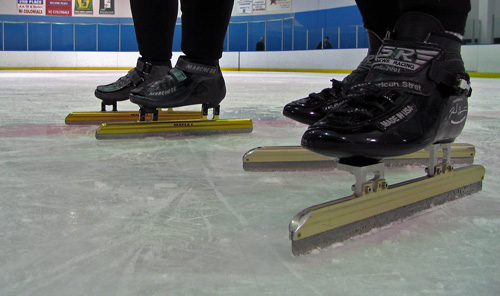 Without committed grass roots volunteers like Hence & Al, speedskating dies.
Without good folks like Bill Jamin & Glenn Hukins who welcomed me warmly (as they welcome all) to practice with the Garden State Club, speedskating is in serious trouble.
Although our national team members, and the folks who win World Cups & Olympic medals deserve lots of love, so do the grass roots. Like these two young skaters, flying past duct-tape scarred pads.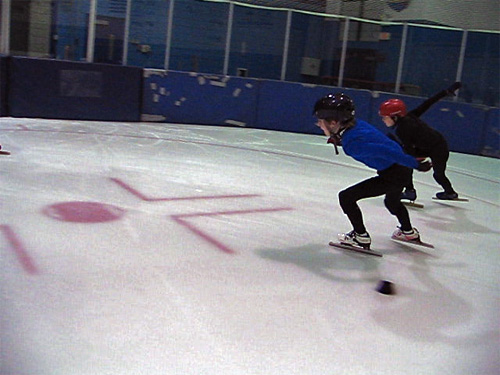 Wouldn't it be a wonderful project to try and skate with every short track club in America during a season? My best count from the US speedskating website is that there are 64 of them. A doable number if that goal was your overwhelming goal. I remember over 100 clubs when I started 8 years ago.. hmmm….
I would link to the US speedskating club finder, but that website does not support incoming links, or the back button, or… (the list goes on & on)….
It's really easy to look at the national caliber programs in Salt Lake city, and anoint this group as the be all & end all. Indeed, that is where US Speedskating's 1.3 million dollar a year budget goes. The Elite do need support, no question about that, it's the only way they can be competitve.
But they are only the tip of the pyramid, and the height of that tip is greatly dependent on the width & health of its base. That base is right here in all these volunteer run clubs full of good people, scattered across the USA.
After this one practice, in the locker room, it seems as if the East Penn club had their cookie exchange the week before, and there were still reams of cookies flying around from East Penn skaters up to skate in Jersey. I ended up with a good-sized stack, these 2 immediately fueling my post workout bliss.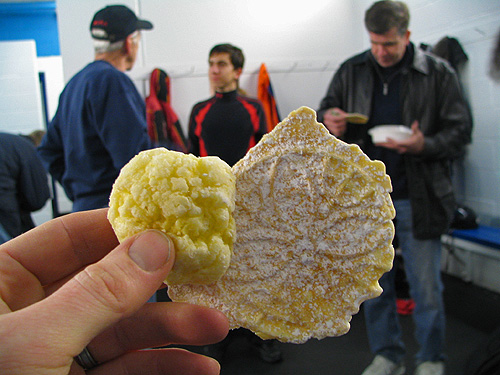 Dustin, what did you put in your gooey butter cookies? A half-ton of butter dusted with cocaine?? wow… Hence, did you say those were hand ground almonds? omigosh I could not stop eating them….
But seriously; let me say an overdue public thank you to Joel Boyd & the Binghamton short track club. I don't think they exist anymore; but in my first 2 seasons of skating, they had a huge impact in getting me started, and helping me fall in love with this sport.
Thanks Joel, and thanks to all the volunteers who make this sport possible.
Filed under: on the road