Posted on 25 Dec 04:19 pm
A picture can be worth a thousand words, or sometimes, one word can begin a thousand pictures, or even one vowel from a baby trying to coo & sing in infant-speak can launch novels in the heart.
My Father's camera caught this moment that became our XMAS card for this year.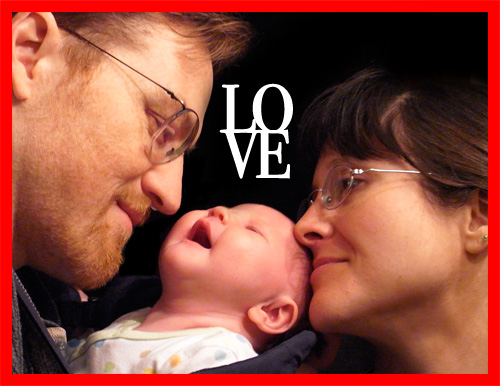 It becomes easier & harder to use words like "blessed" & "miracle" when I look at my daughter. What is that spark that is so definitively RZ from the moment she was born? What is this thing that has lit up our lives, and the faces of the grandparents?
A rationalist/reflectionist view of the world does not contain proper language for this.
It poured rain on Xmas eve, Xmas day was cold, and then sunset spilled its colors across quite skateable New Jersey lake ice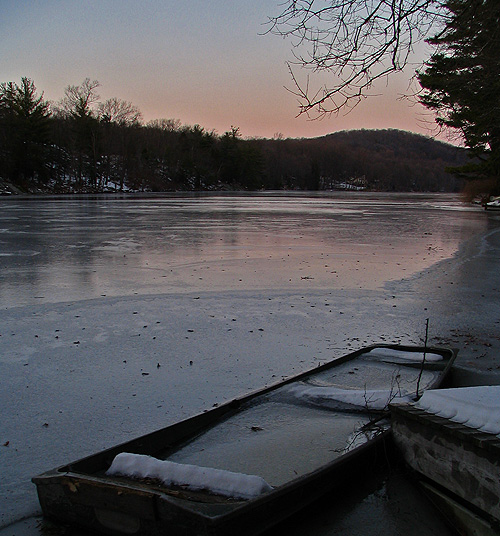 Although I walked on it, I did not venture out on blades. Small patches of open water betrayed uneven solidity, signifying the natural springs spelling danger for all but the thickest winter ice.
Being a father, my own yardstick of risk must change. Besides, "one look" from Jessica vetoed any skating.
For a brief instant, looking out at the lake, I wish national championships were contested on lake ice, with fixed blades, in single layer wool suits with foofy hats. Someday this race should happen (maybe in Petoskey?).
My dad snapped the moment as this was swirling in my mind.
I leave for Milwaukee & US national champs tomorrow, and knowing that Jess & RZ will be surrounded by family in this stupendously beautiful, very peaceful place, allows me to leave without overwhelming waves of guilt.
Thanks for the pics dad (and for a lot of other things too, If I am half the Father you have been to me, I will still end up a great Dad).
Filed under: on the road