Posted on 27 Dec 05:57 pm
I don't have reliable Internet access, so this will be an incredibly quick entry, on a few moments of the many amazing races today.
So many stories in every event. Here is Lawrence Ducker leading Ryan Bedford entering the final turn of a 500m. I am pretty amazed at what Lawrence is doing here, as his left skate push is cleanly threading the tiny space between two blocks as he is traveling 33mph.
Shani & Chad showing some extended glide-time during extended pain-time; 3 laps to go in the 5k. They were paired together for both 500m and 5k, and it was incredible to watch these world champions/Olympic medalists go at it.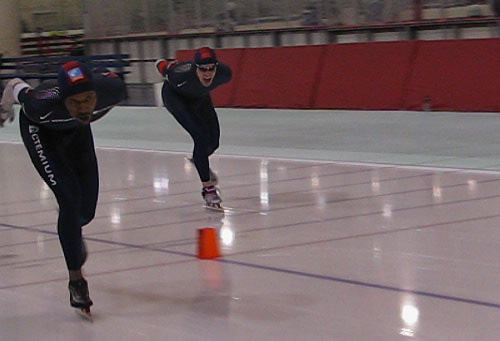 Whereas Chad & Shani were pushing each other, Trevor Marsicano was 3rd in the 5k by a whisker, a fantastic race, just himself vs the track. Here he is in the last few meters of pain, again, in a glide moment.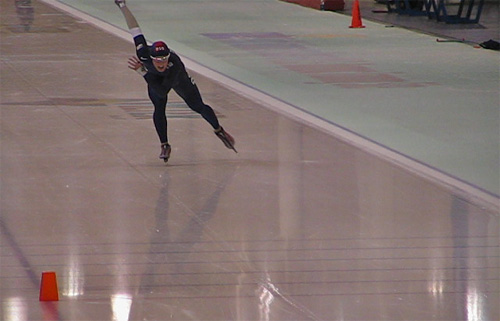 So many stories: Justin Stelly has spent most of this season recovering from injury. He is certainly not skating near his potential, and that is a psychological battle that he needs to go through to get back to the top of his game. He fights with heart here in the last 200m of his 5k…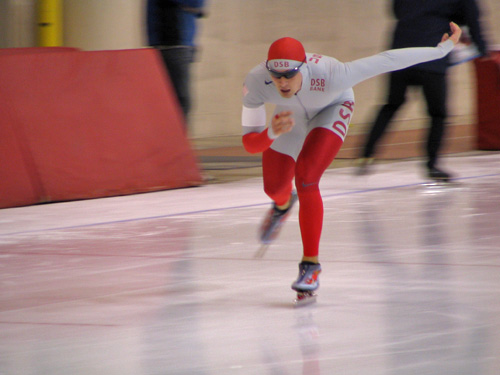 and pays for it after the finish. As a pure sprinter, I totally respect the effort & toughness of the true allarounders.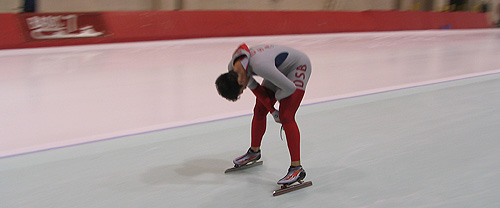 Ashlee Barnett & her clipped, powerful style, is shooting through the final turn in the 500m, earning a highly respectable 2rd place finish. I think this is her first senior long track nationals medal. Go A-Barn! (Note & correction: she has several she earned as a junior, but this is the first in some time, and one she quite happy with.)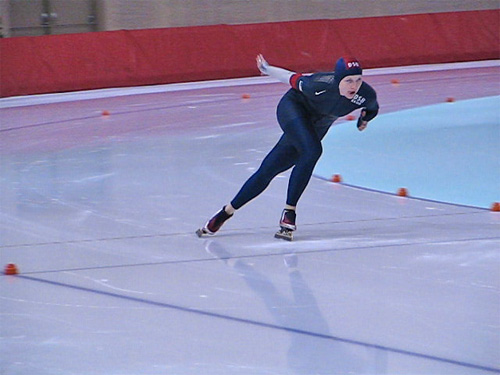 3 happy women on the podium after the 3k. Maria Lamb, Nancy Swider-Peltz, and Catherine Raney-Norman.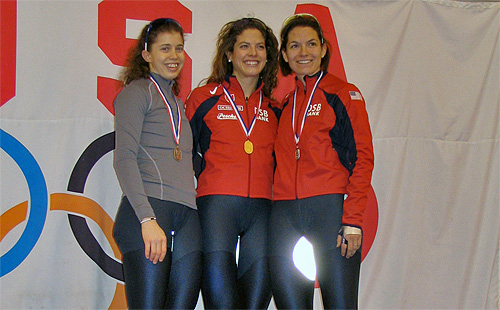 Ok, must run, my brief moment of internet connectivity is fading fast, more tomorrow if I can.
Filed under: RACE DAY, on the road