Posted on 27 Dec 11:07 pm
The words "family" and "community" are often misused and blurred into a sound bite.
But when you are at Olympic trials, and you see the emotion flowing from family in the stands to the athletes on the ice, when you see the unique community between long track skaters, you know these words are not dead.
This poster is from the family of Alex Mark. Green & white because they are from Philadelphia, and are Eagles fans.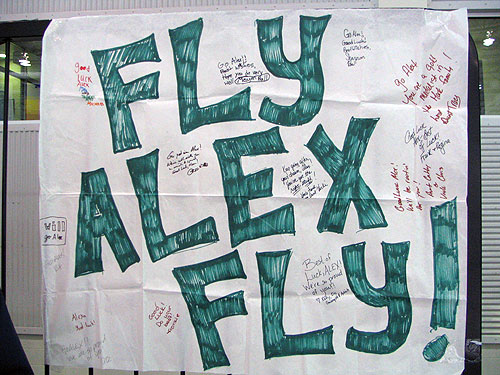 & Alex did them proud, smashing his PB to flaming bits yesterday with a pair of fine mid 36 second 500's. This is him the moment of starting his celebration as he looks at he scoreboard.
Day 2 and already many athletes felt tired. So did your blogger. I missed the start of the women's 1000m! Deepest apologies. I will get another shot at the women's 1k on Wednesday. Especially as there was a surprise win by Michigan skater Kelly Gunther.
But the men's 1000 was fast & furious. Joey Lindsey & Chris Needham at absolute warp speed, 500 meters into the 1000. Chris was 4th & Joey 7th. I would bet significant karma cash that you will see Joey on a world cup team sometime in the next few years.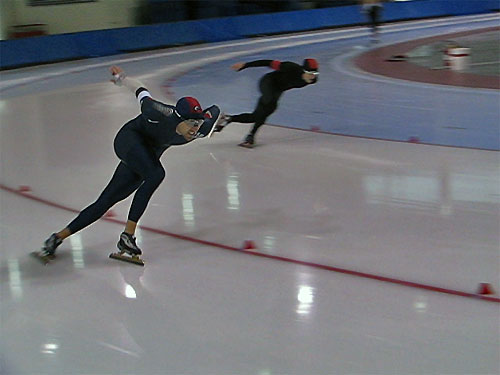 Matt Plummer & Clay Cholewinski had an awesome race, then joked about it after. So many of these athletes know each other so well. Clay is having a breakout trials. Like Joey, you will see him on the world cup circuit in the next few years.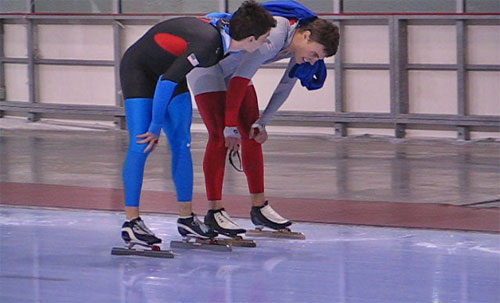 Nick Pearson was 4th in the 1000m in the 2002 Olympic games. He did not make the 2006 team. He is a veteran with some serious karmically unfinished business. He is top 10 in the world in the 1000m, and is skating that way.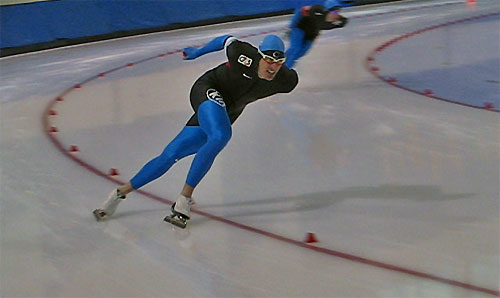 Women's 3000m
In one of the first pairs, 1998 Olympic 3,000m bronze medalist Jen Rodriguez steps to the line. She has been concentrating on her sprints, and she rips out a great time. 4:10.
One of my closest friends in the sport, Carla Langenthal, chased Jen in this pair, and skated a huge PB, and her best overall finish at US nationals so far. 5th overall.
These black SWIFT team skinsuits look like secret superhero wear.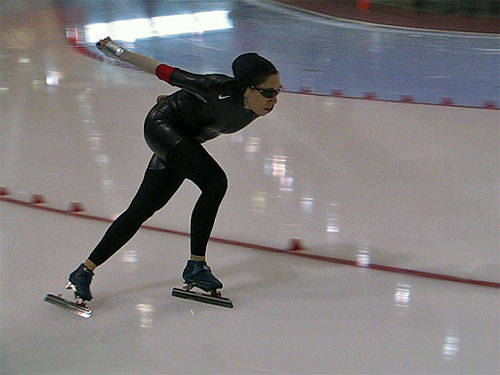 April Medley has a new coach this year, and changed her style in some crucial ways. She seems happy with the changes.
The last pair had two of the strongest, Nancy Swider Peltz Jr, and Maria Lamb. I will let Nancy's Narration take over here-
Nancy: I was probably the most nervous of my entire life for this race. I've been nervous before World cups, and those have been my worst races.

When I get nervous I clamp up, get tight, and a lot of the race is a blur

This was the hardest race of my life. Maria gave me a run for it.
You started fast, and then Maria caught you just before the bell lap, I thought you were toast.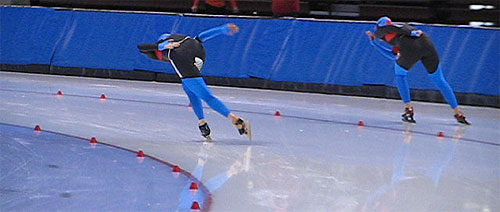 But somehow you reaccelerated. You found something & passed Maria in the final turn.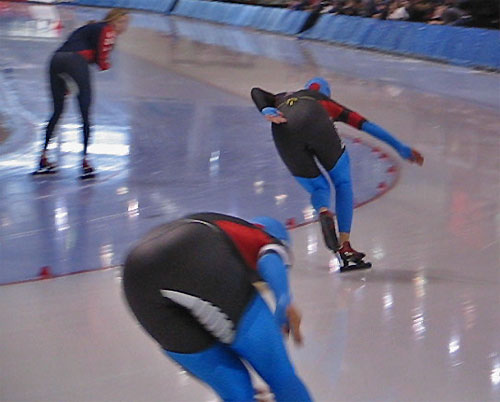 Nancy: I had to win it, I gave everything I got, I had nothing afterwards. I walked off the ice and collapsed on one of the blue pads. I couldn't stand up. It was the worst pain of my life.
How does it feel, Nancy Swider-Peltz, Jr, Olympian?
Nancy: It has not sunk in yet.

I have been asked, "how does it feel to share the same title as my mom". My mom has been an Olympian, and now I am a Olympian with her, and that means more to me than anything else. I am so proud to follow in her footsteps.
I will not publish the picture I have of Maria after. She was in a lot of pain, and not just physical. Nancy & I both remarked how there are so many good people, and so few slots.
Nancy reminded me though "Just wait for the 5,000m, Maria will come after that really hard."
Men's 5,000
The lap times one needs to skate in a modern 5,000m are just becoming scary fast. If you want to win, you better prepare to skate almost 30mph for 3.1 miles. The winner averaged 29.4
There were many back & forth battles. The 5k can get personal in a way that a sprint race is just too short to be.
Paul Dyrud & Brian Hansen.
Ryan Bedford & Jonathan Kuck
Brian Hansen & Nancy Swider Peltz Sr (who coaches many skaters). Over their shoulder Ryan Bedford grabs a draft From Jonathan as they continue their duel.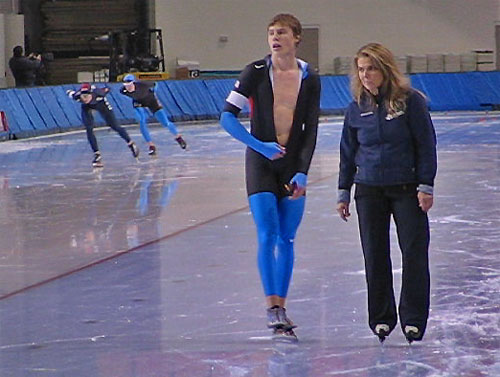 Trevor Marsicano, deep in the pain cave… He came out on top this day & will Join Shani & Chad on the 5,000m Olympic team.
The top 3 were Trevor, Jonathan and Brian. That youth movement I was talking about.
Wow… if the day was not exhausting enough, the nuclear eyes of televison turned its gaze onto our microscopic sport, and Stephen Colbert was at the US championships.
I had been contacted by a producer for the Colbert report, asking if I could do some on ice camera work for them. Turns out they did not need me.
However, there was one picture I wanted to get, and I got it.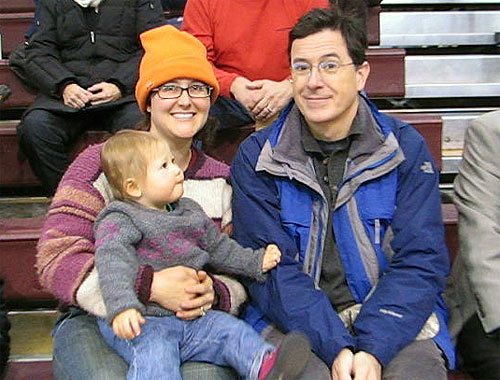 Watching Steven work, I was very aware this was a world class comedian, as good at what he does as our Olympic team is at skating fast.
He has about a half dozen "faces" he used for photos like this, and was flowing through them with amazing smoothness. This is his talent, his craft, and he is as sharp at it as our skates are sharp. Here is him with Tyler Goff, for example-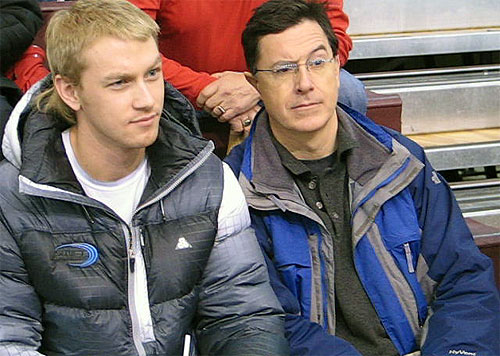 I think the top photo is the "real" Stephen, and Tyler somehow brought out the "other Stephen".
Just from watching him interact with the athletes & the swarming crowds, he seemed a deeply genuine person.
Filed under: Olympic Trials