Posted on 27 Sep 08:34 pm
This weekend, someone asked me "Andrew, how old are you?"
Without thinking, I answered:
Well, I am younger than I was in June
Given the quizzical look I got, I had to explain this, to myself as well as the questioner: This spring I was in my worst shape in about 6 years. A new baby + my wife's illness, & I had gained about 10 lbs, as well as lost some muscle mass .
At the end of June, I started training hard again. After a lot of hard work, I feel so much better.
Although Olympic trials might have been what got me into gear, my finishing times at trials are secondary compared to how I feel. How old am I really? Almost 39. However I definitely feel younger than I was in June.
Isn't that the gift you give yourself, really. With all this working out? To feel better? To step outside of time?
My friend Bill Armstrong is also younger than he has been in years, just cut about 4 seconds off his 1000m PB this past weekend. He is training with the tough guy Bob Fenn, and that will make you younger (or you will die trying).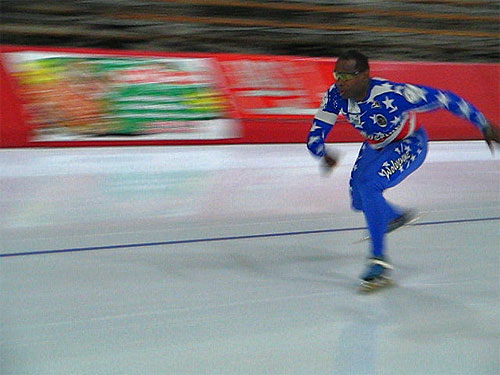 I've seen this transformation over and over in people who have gotten really serious about speedskating. I've seen Bill think about it for some time. This year he has really thrown his whole self in, and it shows. And although we might point to a race or event we are training for, it's the decision to prepare for it that matters.
1 Comment »
Filed under: from home