Posted on 22 Jan 11:39 am
These photos are from a meet this past weekend, at the Petoskey, Michigan, outdoor long track.
In this below photo, I can almost taste that sharp-midwest chill coming out of the cold deep blue sky. You can also see photographer Tom Cole's shadow highlighted by the low-angle winter sun.
Click on each of these photos for a bigger version.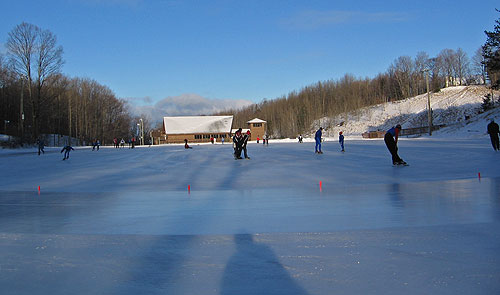 I once thought that this was a track made out of a pond. The truth is more interesting. What Michigan speedskaters do is pack the snow over a soccer field, and then flood it to create this track.
You can see a race starting in the distance, and that odd phenomena of the light-caught skate tracks in ice, a bit like curving meteors.
The European standard has always been 400m. American long tracks in the past were sometimes quite a bit shorter. I have heard Petoskey is 300m.
Here are 3 determined skaters, racing in appropriate outdoor warm gear (unlike me, a finnish blog about competitive swimming recently poked good-natured fun at my freezing in lake placid).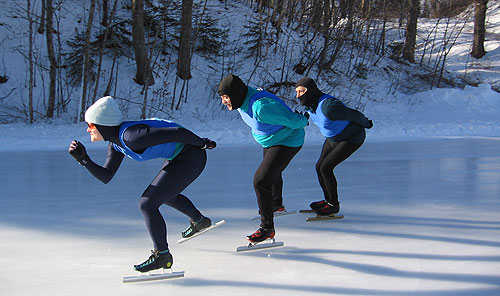 Thanks again, go out to Tom for these photos.
Some might scoff at a small outdoor track, built over a soccer field, comparing it to the massive indoor facilities. How much good can it do?
I think the answer is PLENTY. Every place where skaters can gather and train/race together is a good thing. It creates community, strong clubs, friendships & fun racing.
Even if all you care about is the USA medal count at the Olympics (and there are many who only measure success this way) if there are enough clubs/communities out there, then when a phenomenal athlete who has national caliber ability comes along, he/she will find existing coaches, mentors, and somewhere to train where skaters gather. If they don't have this, then they find another sport to excel in.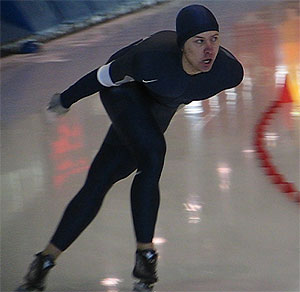 The most current visible Petoskey alumnus that I know of at the National Level is Matt Hotchkiss. He races strongly in both short and long track. Here is an image of him competing at the America's cup this past December, during the last 800m of a 5k.
Repeat his experience over and over, in tracks all over the USA, you create a strong national scene. A hot national scene is the forge that smelts ambition and talent into world-class skaters. Create enough world-class skaters, then you will find that tiny number of special individuals who become Olympic medalists.
Who then inspire the whole cycle to begin again, in places like Petoskey, Michigan.
Filed under: from home